Governor Umahi in trouble over Peter, Aisha replies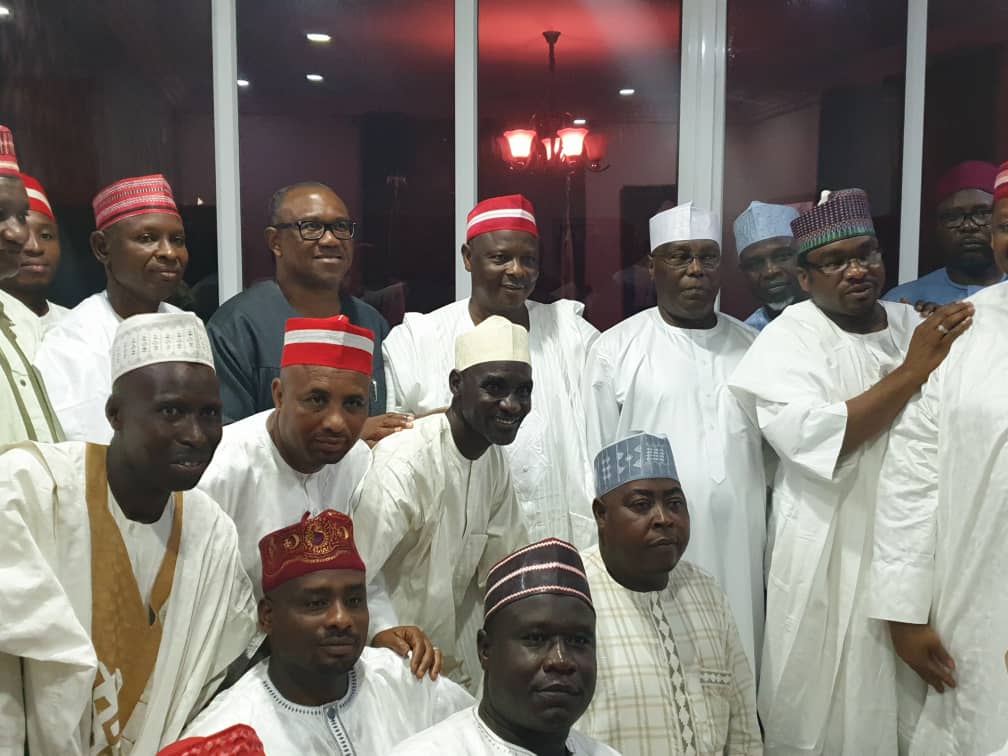 Government House Abakiliki
Ebonyi  State.
Nigeria.
13/10/18
DISPLEASURE ON YOUR RECENT EMBARRASSING STATEMENT ON THE CHOICE OF MR PETER OBI AS THE Running MATE OF ALHAJI ATIKU ABUBAKAR.
Your Excellency,
Let me begin with a congratulatory message on your assumption as the PDP flag bearer for the Governorship of Ebonyi State in 2019. It was an automatic ticket for you, which the Party in its wisdom as the biggest Political Party in Black Africa, chose to bequeath on all her Governors across Nigeria that are yet to complete their second tenure.
The Party also on the 6th Oct. 2018, held her general convention in Port Harcourt-Rivers State, where it chose Ex. VP Alhaji  Atiku  Abubakar as the flag bearer in next year's presidential polls.
Now the question on the lips of every Nigerian was 'Who becomes his running mate?  In fact most media platforms, especially the social media and other concerned persons across Nigeria and beyond where busy campaigning and projecting a particular candidate of their own choice. The immediate past Governor of Anambra State, Mr Peter Obi was finally settled on as his running mate.
While encomiums and applause continue to trail this epic achievement, a worrisome and disturbing utterances was emanating from your office. You went to press to disassociate yourself and government from any kind of congratulatory messages by your Chief press secretary to Mr Peter Obi, on behalf of the Government and good people of Ebonyi State.
Your excellency, this Point of view is never in the best interest of Ndigbo and Ebonyi in particular. An Igbo adage says"egbuedike na ogu uno, na ogu ilo emezie  gini?" If an able warrior is murdered in a  family crisis, what now happens when same family faces an external crisis?
Your recent insensitive and provocative Statements is very capable of causing bad blood between both sister states,  and not only that, it has ridiculed the Igbo nation before the eyes of Nigeria and portrayed us in bad light as divided and Selfish.
Your reason that Igbo leaders were not consulted before the choice of Peter Obi as VP was reached ,is not only politically naive but misleading. Please sir, who and who are the Igbo leaders to be consulted?
Are you saying this to sound relevant? or just lashing out your frustrations on the political heights of Mr Peter Obi or are you just being mischievous? Any elder worth his grey hair must pause and think before speaking, but since you have chosen to ridicule your office and show yourself as a Sentimentalist of an annoying degree, let me quickly respond to you with these few posers.
1) Ebonyi people living in Anambra State has benefited tremendously when Peter Obi was Governor. My humble position as the National Coordinator, Association of People Living with Sickle Cell Disorder, has exposed me to the knowing and other political intrigues among the five eastern states. A good number of Sickle Cell Patients across the five south eastern state have been economically empowered by Mr Peter Obi.
2) Where were these your 'imaginary leaders' whom are to be consulted, when Sickle Cell Patients were running to and fro, in a bid for them to be heard, supported and giving the necessary political backbone to further their cause and how Sickle Cell Bill can be passed into law?
3) What have you, Gov. Dave Umahi  done to alleviate the Suffering of our sick members from Ebonyi State whom are your subjects?  How have you spoken up in our defence against our numerous challenges and exploitations and illegal detention across South Eastern States?
4) Why is it too hard for you to reconcile with your own brother the immediate past SSG, Prof. Bernard Odo whom some of us have also done everything humanly possible including begging the same Peter Obi to intervene for peace to reign and give you a possible landslide Considering that he is a formidable politician that has endeared himself to the people of Ebonyi State?
5) Why is your publicity and media office in disarray? Why would your Chief Press Secretary make an official press release earlier on only for you to come out later to debunk or disassociate yourself from it?
Your Excellency, the Igbo  people has long been traumatized by inept leaderships for long, not counting that our closest chance to power was in the second republic when Dr Alex Ekwueme became a vice president, ever since, it has been one failed attempt after another to streamline our collective interests as a people into the national consciousness.
So in the best interest of every concerned Igbo, you are hereby advised to shun utterances capable of turning us into a laughing stock. Refrain from further vituperations and focus more on uplifting the living standards of Ebonyi people. Your State can not boast to be among the first 20 and economically viable states in Nigeria, so the onus is on you to work assiduously in developing initiatives and projects.
Whatever grudges you might  hold against the candidature of Mr Peter Obi should be buried now as all manner of men and women across Nigeria and beyond are now 'AtikulatingPeter' for an  economically sound nation we  should all be proud of, starting from 2019.
As continue with my unflinching support for your government for obvious reasons, may I humbly thank you sir for your good understanding and calm disposition towards this All important Atiku/Peter 2019 project.
Yours sincerely
Aisha Edward
AKA (OTIGBU IDE)
Proudly EDDA