APGA's VP candidate, Jerry Chukwueke at a glance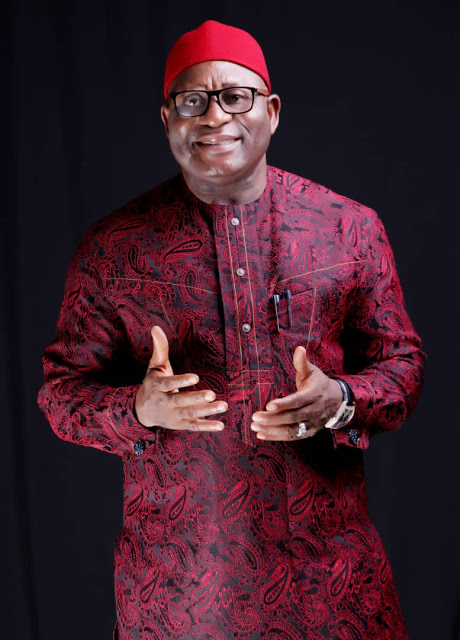 JERRY CHUKWUEKE: PROFILE OF THE APGA VICE PRESIDENTIAL CANDIDATE
Jerry Chukwueke, born 28 January, 1957, is a Nigerian politician, entrepreneur and businessman who hails from Awaka village, Owerri North LGA, Imo State.
He is the founder of Germaine group comprising of sectoral services including health and pharmaceuticals, property and investment ownership facilitation. Germaine Auto Center deals on sales of Toyota, Kia vehicles and genuine spare parts, service and maintenance as well as repairs of all brands of automobiles including cars, light trucks and commercial buses.
*_EDUCATION_*
Jerry Chukwueke was educated at Our Ladies Primary School, Emekuku, Imo State, between 1969–1975.
He attended St. Francis College, Uturkpo, Benue State, Nigeria.
Thereafter, he studied for his undergraduate degree at the Morgan State University, Baltimore Maryland, where he won the University Most likely to Succeed Graduate Student Award in 1985. Here also he obtained a Bachelors of Science in Political Science.
He further obtained a Bachelor of Art in the same University.
*_BUSINESS CAREER/ EMPLOYMENT HISTORY_*
Chief Jerry Chukwueke is the Founder, Chairman/CEO,
Germaine Group of Companies
Chairman/CEO
Chucks & Associate Nigeria Ltd dealing on Oil and Gas Services Consulting.
Chairman/CEO
Malvin Energy Services Nigeria Ltd also dealing on Oil and Gas Services Consulting.
President/CEO
Dominion Automotive Groups, Dominion Ford/Mercury Culpeper, Virginia, USA.
Dominion Lincoln, Mercury Chrysler, Plymouths, Dodge,Waynesboro, USA. A dynamic Automobile Company with over 200 staff strength and annual turnover of over 60million US Dollars.
Chairman
Malben Foreshore Development Ltd dealing on Real Estate management.
Admiralty Motors Nigeria Ltd dealing on services and sales of automobile parts.
Zone Logistics Nigeria Ltd dealing on Currier/Logistics Services.
Director
Food Concept International (Chicken Republic).
Veritas Travel Agency Ltd.
Salus Trust Ltd ( Health Maintenance Organization).
*_AWARDS OF DISTINCTION & RECOGNITION_*
*1985: Morgan State University most likely to Succeed Graduate Student Award.
*1991: Top 100 Black Owned Business In America- Black Enterprise Magazine Award to Dominion Ford Mercury.
*2006: Most improved Toyota Dealer Award to Germaine Auto Centre.
*2008: National Quality Automobile Sales, Services, Repairs & Leasing Company of the Year Award to Germaine Auto Centre.
*2008: Toyota Nigeria Ltd Best in Customer Satisfaction Award to Germaine Auto Centre.
*2008: Guardian Newspaper 20 Outstanding Role Models Award in Corporate Nigeria.
*2008: Thisday Newspaper 40 Men of Integrity Award in Corporate Nigeria.
*2008: Association For Promoting Nigerian Language and Culture (APNILAC) Award of Excellency in Supporting the Promotion of Nigerian Languages and Culture.
*2009: Tell Them Magazine Award of 20 Notable Leaders in Nigeria.
*2009: Newswatch Magazine Award of 50 Notable Leaders in Corporate Nigeria.
*2009: Financial Standard FS Newspaper Award of Fifty Drivers of Change in Corporate Nigeria.
*2009: The West African Direct Marketing Awards of West Africa's World Class Automobile Marketing and After Sales Service Company of the Year to Germaine Auto Centre.
2014: Vanguard Media Limited Award of Nigeria's Most Resourceful CEOs in National Development.
*_CHIEFTAINCY TITLE:_*
*2013: Conferment of a High Chieftaincy Title of Ohamadike Nde Owerri by the Conference of Traditional Rulers of Owerri Federal Constituency (36 Traditional Rulers).
*_POLITICAL CAREER_*
Chief Jerry Chukwueke was the Gubernatorial Aspirant and Chairman, Contact and Mobilization Committee in Imo State under the platform   of People's Democratic Party in the years 2007 and 2013 respectively.
He is currently the Vice Presidential Candidate of the All Progressives Grand Alliance, APGA.
Jerry was tasked, with other notable Nigerians, to design and produce a manifesto to reveal the mission and vision of APGA in the journey to the Presidency. He produced a 60paged document published by APGA as its manifesto if elected to power. The highlights of the manifesto includes a number of programs designed to create economic opportunities for Nigeria's massive population through focusing alongside the foreign investors on the infrastructural, economic and developmental factors of the six geo political zones.
Also contained in the manifesto is collaborating with the CBN to fund cattle farmers to establish cattle ranching in the North plus provision of supports like developing a massive irrigation scheme in the North to reclaim our lost lands to desert, raise vegetation for our cattle and grow the agricultural value chain.
He equally mentioned to engage the services of Foreign Military Contractors in tackling the security challenging in the country.
The document equally captured reducing the cost of governance by 5% and channeling the recovered funds on Housing, Health and Education sectors of the economy.
*FAMILY*
Chief Jerry Chukwueke, Ohamadike ndi Owerri is happily married with lovely children.