Bianca blasts Oye over threat to suspend her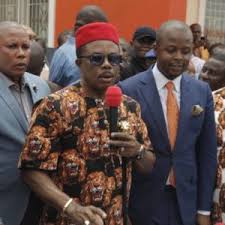 The Mother General and member of APGA Board of Trustees, Amb. Bianca Ojukwu, has described the National Chairman of the party, Chief Victor Oye, as a bad tenant threatening brimstone to suspend his landlord.
Ojukwu's wife was reacting to a statement credited to the APGA boss where he was quoted to have said that APGA would suspend the wife of Ikemba over alleged comments against the party's leadership.
Victor Oye was quoted to have said that the party is likely to suspend Bianca for allegedly insulting him over APGA primaries.
Infuriated by Oye's assertion, Mrs Ojukwu described him as "A bad tenant who is desperately seeking an extension of his tenancy is threatening to suspend his landlord. Onye mmili na eli…
Wonders shall never cease….Only in Nigeria!".
He challenged  Oye to produce the report of APGA National Reconciliation Committee as a way of pacifying aggrieved members of the party instead of raising more dust.
"I maintain that the National Leader of APGA, Gov. Willie Obiano, deserves commendation for setting up a National Reconciliation Committee tasked with enquiring into the complaints of the aggrieved, gathering information and collating evidence from victims of the sham primaries.
"The committee is expected to provide a comprehensive report of its findings based on factual information and evidence presented before it.
"Together with all well meaning members of this party, I call upon the chairman and members of this committee to make public, as soon as possible, the report of their investigation into the atrocities and gross violations that took place in the course of the sham primaries, as well as their recommendations.
"Time is fast running out for the party and our members are defecting to other parties in droves.
"The aggrieved demand nothing other than justice, and those responsible for these violations should face the consequences and make the requisite reparations".