Eze Chukwuemeka Eri honours Obiano's aide Uju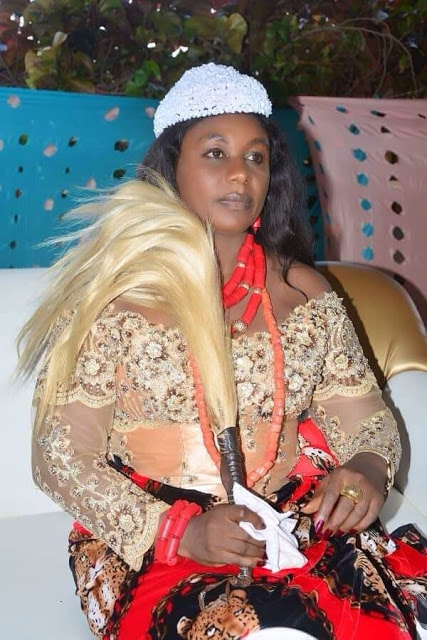 Nollywood Diva and delectable Uju Ifunanya Edochie, the Special Assistant to Governor Willie Obiano of Anambra State on Media and publicity has been honoured by His Royal Majesty Eze Chukwuemeka Eri of Enugwu-Aguleri, Idu Eri Kingdom in Anambra-East local government area of Anambra state.
She was conferred with ADA ERI N'IDUU ERI Chieftaincy title for her immense contributions to the people of Amuleri , Enugwu-Aguleri and beyond .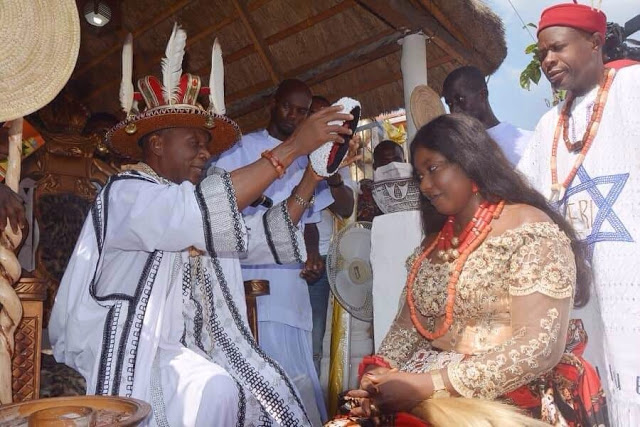 Eze Chukwuemeka Eri said Uju was found worthy of the honour of a traditional title because her philanthropy and kind gestures to her community.
At the conferment ceremony which took place at the Eze's ancient palace, aka Obu-Gad palace of His Majesty under the watchful eyes of Ndichie Enugwu Aguleri, HRM Eze Chukwuemeka Eri (Aka Ji Ovor Igbo Nine The 34th) explained that conferring a chieftaincy title on an indigene of Enugwu Aguleri is an indication that such a recipient has made a significant impact to the progressive community.
In response after receiving the title, Ada Eri expressed appreciation to Enugwu Aguleri community for the honour done to her, which she noted, would a long way strengthen her belief that she is loved and cherished by her community as a result of her major contributions both in the past and present times.
Hon Uju thanked the Governor of Anambra State, His Excellency Chief Dr Willie Maduaburochukwu Obiano, Akpokuodike Aguleri and his beautiful  wife , Chief Mrs Ebelechukwu Obiano , Osodieme Global for their  parental advice.
She equally thanked HRH Igwe Kenneth Okonkwo , Egbe Eji Eje Ogu na Amansea; Dr Patrick Ifeanyi Ubah, EbubeChukwuUzo Nnewi , Odogwu Anaedo , Ive Nnewi Ji ka Mba,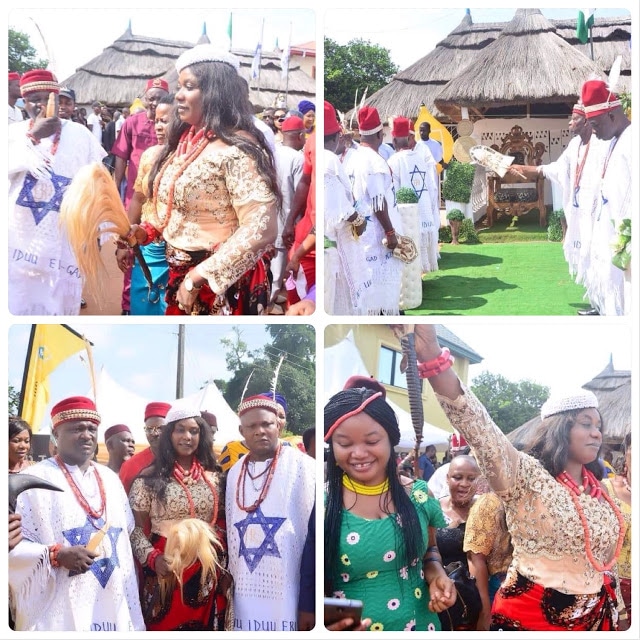 She as well thanked the Anambra state Media Team led by Chief Egbune Amuta (Onenenyi Na Onitsha Ado n'Iduu.) Hon Obika Chidiebere CY (Omenife Na Nteje) , Hon. Iyke Aniagboso and  other members as well as Nollywood Entertainers (Edutainment) led by Prince Uche Ndigwe, (Diokpala Awka) , Obi Dike, Rita Arum , Princess Bibiana Nwankwo , Ada APGA and Chinwoke Mba, Chief Mrs Rita Edochie, "Nwunye Tony Edochie"(Ugo di ya) Nwa Olosi Enyi Na Onitsha Ado Na Iduu, Odua and others.
Uju went on to thank Dr. Patrick Ifeanyi Ubah's Friends led by Chief Onyeka Akwaeze and Ayaka Omabala nine, Ifeanyi Ubah Solidarity Movement (IUSM), led by the National leader ,High Chief Mike Okechukwu (Aka Eze Igbakwu, Ogene Ayamelum) , Obioma Obidiegwu (Media Director) and her sister, Hon Mrs Ifeoma Onwudiwe and her OkeAwele Team.
Others she mentioned were Aguleri World Forum (AWF) Ndi be mu na ndi nwe mu, ably led by the admins, Ichie Basil Manafa (Ugulu Aguleri) Prince Okey Ekwuo, Chinedu Aniukwu, Chinedu Akorah, Comr. Ben Umeh ,Bro. Pius Machi and Tony Ezindu Onyekwe as well as team Victor Umeh ably led Nchekwube Anthony (Ezesinachi Na Amansea) a.k.a Captain Dunga and his entourage.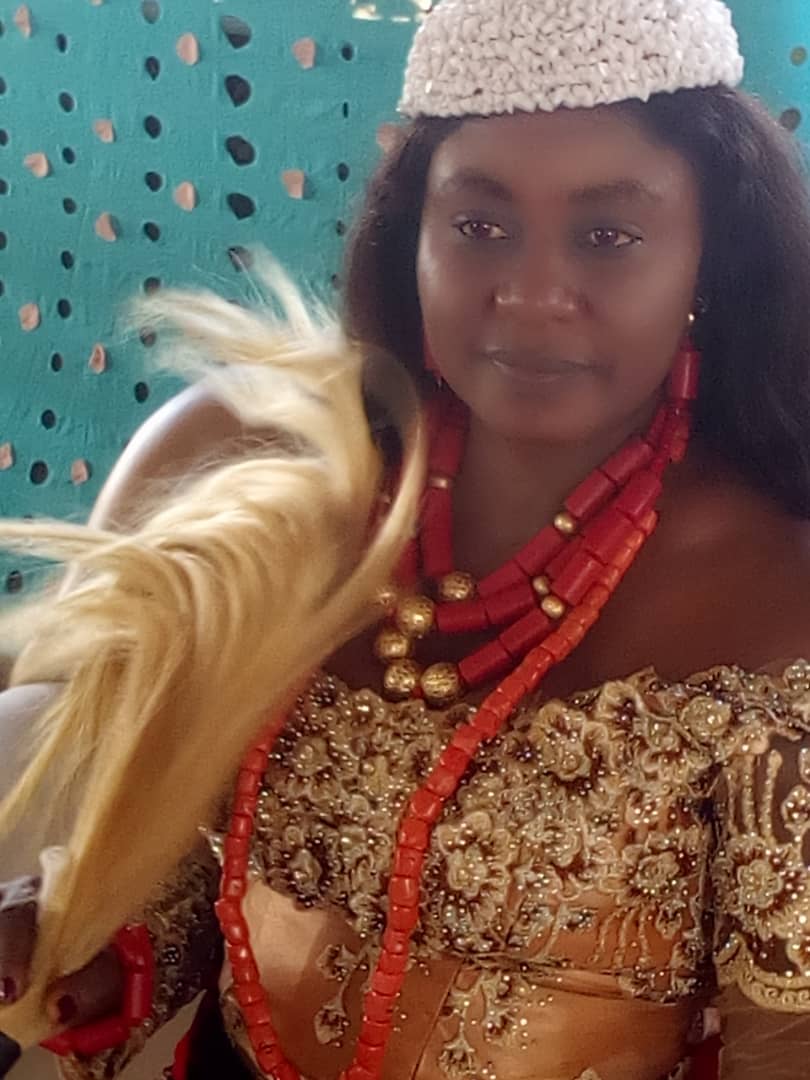 She thanked the Anambra Social media family and friends including Igwe Ike Umeadi, Igwe Ike Nibo, Ikechukwu Al Barney Amaku , Okwa. C. Ifugo, Chidiebere Maduafor and Anambra Online Publishers, led by Mr Bamidele Ajayi and Raymond Ozoji.
Her thanks also goes to the Nigeria Movie Marketers Association led by Chief Osita Okeke Oguno , Ossy Affason and Chief Emeka Igwemba  and Nigerian Movie Censors Board led by  Chief Mrs Lizzy Uwaezuoke as well as her spiritual directors including Bishop Paul Udogu , Fr. John Manafa, Uduezuo Aguleri and Fr. Collins Akorah , Akorah nwa mmanwu.
She thanked Hon Chief Primus Odili (Okosisi Aguleri) COS to H.E Governor Willie Obiano, the former Anambra East and West Federal House of Reps Member, Hon Chief ChrisCato Emeka. (Nwalupuo Aku Na Aguleri) and his wife, chief Mrs Ekwyyy Emeka , Odaliwu Eje Nga, Omenma Federal, the former Anambra State Commissioner for Works, Chief Lawrence Chinwuba (Chidera Aguleri), Hon. Chief Willie Okafor ( Ngene Atata Aguleri) , Chief Raphael Obidimma (Agu Na eche Ibe na Aguleri)
Others she thanked were Ozo Raphael Uchenna Igwe, (Odogwu Natali Dike Mma Na Amansea) and his entourage, Prince Uche Oduche (Ikenga Dunukofia) CDG Victor Umeh Campaign Organization, Chief Joe Enemuo (Okenwa Aguleri) and his quality wife , Mrs Ngozi Enemuo, Chief Austin Ifedinezi (Aju N'Ebu Ora Na Igbo Nine) , Chief Emma Ubah (Simple Man) , Hon. Ken Iteke, Chief IKC Chukwuma (Ochinanwata Na Aguleri) ,Chief Douglas Ifedinezi (Gandas) ,Chief Amaechi Adimora Ikeli (Ikemba Aguleri) Mmadi mu, Prince Kodi Kasmat Anekwe (Omenyi Chinaemeze Enugwu Ukwu Na Umu Nri) , Chief Nnamdi Adimorah Ikeli (Eze AmuluAmu Na Aguleri) ikalili uke.
Others were Chief Obiorah Nnatuanya (Ogbondu Na Iduu Eri Kingdom), Chief Victor Emeka (Okeosisi Na Iduu Eri Kingdom), Hon Buchi Nwalieji, Hon Chukwunonso Iwoba (Amanyanabor) Comr Dominic Okagbue Media , the BrainBox and Hon Obinna Igweze , Obinna Omata ,Chief Oliver Asiegbu, Ogalanya Umuchu , Ogbuefi Harris Chuma , Ogene Igbo and the media guru, Kinsley Ezekwelu, Engr Lukeson and Mrs Ifeoma Igboeli, Hon Iyke Nkwuenu, AB Omalicha , Uju Nwokedi (Omenka Princess) , Uju Emeka (Uju Special), Josephine Obi , Tina Raph, Hon. Maryann Ekeh -Izuchukwu , SA Community Liaison ,Lady Tina Makasi and Decent Ladies Group, Chief Hon. Mary Ejike (Odiuko n'Mba) , Ifeanyi Robert Chino , to mention but a few.  
In an interview , Engr. Basil Manafa an indigene of Aguleri community said the Governor's aide was recognized because of her purposefulness as well as ability to galvanise people towards a positive end.  He said bestowing the houour on her means encouraging the women folks in many ways .
In the same vein , Hon. Onyeka Akwaeze described Uju Edochie as someone who is generous and socially inclined. He also explained that Ada Eri is someone who can bring the culture together as well as remind them of their ancestral heritage.