Unizik's Mission to glory: Prof Ahaneku's pains, Prof Esimone's gains
By Odogwu Emeka Odogwu
On Sunday 30th June, 2019 at the Anglican Church of the Holy Spirit, Awka inside Paul University, Prof Charles Okechukwu Esimone, the sixth Vice Chancellor of Unizik mounted the pulpit and held the congregation spell bound for over 30 minutes.

A member of National Christian Elders Forum, Justice CEK Anigbogu, retired, who gave a vote of thanks on behalf of the Church described as pulpit exchange,

Evangelist Dr Godsent Obijuru facilitated his coming to minister at the 1 week Revival programme of the Church, even though Esimone is a Believer in the Deeper Life Ministry Church. Venerable Dr Rex .C. Kanu , the Vicar in charge was the host.

Whereas Anigbogu lauded the honesty in the selection process of Esimone; Obijuru, informed that in the history of Unizik, none of the VC's was a preacher but Esimone is, describing him as a righteous leader who the people will rejoice and bless God under his five years term, even as, Kanu reminded him of the prayers done for him by the Church which God answered. Reverend Udochukwu Jeff Okeke, Registrar of Unizik, Barr. Philomena Iwara Okoye, Prof Tony Nwokoye and Dr Emma Ezenwaji among others were handy to welcome him.

Prof Esimone was in another clime, when he mounted the pulpit as he re-echoed his resolve to hand over Unizik completely to God's throne unmistakably. He is ready to dare to represent the truth and called on other Christians not only in Unizik, but in the society at large to do same, as true sons of God through Jesus Christ, our only Lord and Saviour.
He urged Christians to purify themselves and have an enduring relationship with Jesus Christ as no one can know God without relating with Jesus Christ. He frowned at lecturers defiling teens given to them for mentorship and assured he would champion a new standard for the University.

But how time flies. Five years ago, Prof Joseph Eberendu Ahaneku, FAS was appointed the Vice Chancellor of Nnamdi Azikiwe University, Awka amidst pomp and ceremony, not without a fierce battle in court and out of court including the media. At the end, he served his term of office as God must have destined.

Then, sycophants, hangers on and fortune seekers breathe and bandy about Prof Ahaneku, as if they all sincerely loved him and wished him well rather than the selfish interest, but today, Prof Ahaneku's term in office as Vice Chancellor is history, and it is not ripe yet to know if history would remember him well, or not, as a new Sheriff is in town. But, truly, he is now having a good reflection of his term of office. One thing is sure, his phone no rests unlike while in office. His true friends, he abandoned if any, will gradually return. The opportunists will disappear.

The brand new Vice Chancellor of the great Unizik today is Prof Charles Okechukwu Esimone, FAS. His installation was solemn and unprecedented in Unizik. He mounted the stage at exactly 2:34pm with Ahaneku presiding. People came from all walks of life to witness the hand over/ installation.

Visionary Ahaneku knew Esimone would do well, but, he still asked for prayers on him for God's direction for a responsive leadership, even as, he asked him to carry along the University benefactors. His wife, Prof Mrs Gladys Ifesinachi Ahaneku, a Consultant Physician at NAUTH, mobilized Unizik women under Nnamdi Azikiwe University Women Association, NAUWA as never before in history to lend support to the progress of the University. They empowered the women in different ways, screened for cancer, opened a Bakery and introduced Unizik Bread to mention but a few. Shall NAUWA die now or Esimone's wife taking over or?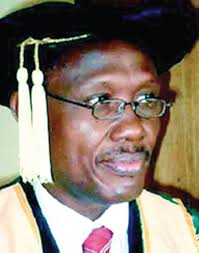 And shockingly, right inside the hall, some have started comparing a man who had grace to superintend over Unizik for 5 years as VC and a man who just assumed office and had not even entered his office. Some top officials who probably sought for employment and were told there were no vacant openings, were bitterly discussing how Prof Ahaneku told them there was no vacancy as the University was employing only First class materials only to see over 1,000 people employed in Unizik under his watch. And as if planned to rubbish his term in office, a sore thumb emerged to dent his five years of meritorious service with the case of a lecturer in the Department of Pure and Industrial Chemistry, Dr. Peter Ekemezie who allegedly forged several certificates.

Nobody reads about the 17 legacy projects by Ahaneku and 16 others that had their foundation laid during the 13th Convocation, even the Beautiful gate, Permanent Medical centre or VC's lodge? All the good news disappeared for only bad news, just in one national daily. Think of when all the media direct their attention to Unizik in the negative. It would be total annihilation of Ahaneku's feats. God forbid!
Prof Ahaneku have had his day. But, for his wife Prof Gladys, wailers would have led Ahaneku astray big time. I could remember those who shouted crucify him when he was appointed, and once they were appointed into positions of authority, the shouts faded overnight.

History will judge Ahaneku right in some aspects of taking Unizik to the next level and restoring the glory of the Institution as contained in a book of accountability published in his honour by the Institution tagged ''translating vision to reality'' where his achievements were marshalled out to the later. He restored the ethos and best practices Universities are known all over the world to Unizik.

The installation ceremony had in attendance the 7th Governing council members and the 8th Governing council members led by Pro Chancellor and Chairman of Council, Alhaji Azeez Oladotun Bello, FASAN and traditional rulers including the traditional ruler of Akwaeze, hometown of Prof Esimone, HRH Igwe Christopher Okpala – the Ezennebo III of Akwaeze, that of Onitsha, Obi Alfred Achebe and that of Ahiara Mbaise, hometown of outgoing VC among others.

It never happened in Unizik according to Prof Ahaneku and I agree with him. I knew how Prof Boniface Egboka handed over to Prof Ahaneku and Prof Ilochi Okafor to Prof Boniface Egboka as well as that of Prof Pita Ejiofor to Prof Okafor. I didn't witness Prof. Festus Aghagbo Nwakor now late handing over to Prof Okafor. Though, Prof Nwakor laid the foundation of Unizik but no one speaks much about him today. The same goes to Prof Ejiofor who if not for his Igbo renaissance mission via ''Otu Subakwa Igbo'' which he has used in the last ten years to actualize what he lost in office as VC, nothing is said much about him in Unizik. And shockingly, Prof Egboka that left Six years ago after One year, as Acting VC and 5 years as substantive VC is not heard or seen.
He is not even mentioned anywhere around Unizik or in town, quite strange! But, alas, Prof Ilochi Okafor that left 11 years ago is still gloating as if it was yesterday. His name rings a bell and still rings in his Law Faculty, the Institution and in the state particularly at the Nigerian Bar Association, Awka Branch where he is a doyen, mentoring the young lawyers. Ilochi's legacies in Unizik cannot be erased. Where would you start and end? Just look at the Bank Halls in Unizik brought by Prof Ilochi, almost all the banks are there for staff and students comfort. Prof Ilochi's legacies in Unizik is a story for another day. Ilochi and Egboka are now Emeritus Professors of Unizik, courtesy of Ahaneku.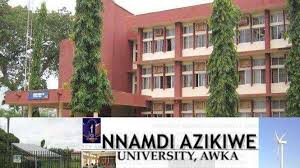 The ball is now in Prof Esimone's court to determine what he does with the office not to disappoint first his God and his followers as a Christian. Esimone was a Senior Lecturer at UNN 12 years ago when he was interviewed to join UNIZIK as a Professor and pioneer Dean, Faculty of Pharmaceutical Sciences. He later rose to become the Deputy Vice Chancellor, Academics and today he is the Vice Chancellor. His meteoric rise he has warned should not be ascribed to human efforts but the hand of God.

Prof Ahaneku reposed great trust and confidence in Esimone by appointing him DVC Academic for two times which was pivotal for his elevation as VC. Esimone recognized that Ahaneku did well in infrastructure, teaching and research, international visibility and University governance. He is now going to use that feats as a launch pad to advance the university.

Has Esimone any vision for Unizik? Hear him: ''I am coming to this job with a vision primed on promoting the highest standards of academic excellence, productive community service, , administrative reforms, discipline and advances in matrix of human capacity building, infrastructural development, staff/students' welfare and internally generated revenue''.
Vintage Prof Esimone wants to enthrone a non-discriminatory, non-selective and meritorious research conducive environment where every researcher is enabled to excel in research, supported with grants and given every assistance required to attract external grants.
He wants to focus on translating research efforts to money by commercializing the outputs. He wants to introduce postdoctoral fellowships and attract foreign postdoctoral fellows to work with principal investigators in the University. As well, complimentary collaborations with Foreign Universities will be pursued to enable Unizik researchers carry out procedures where they lack capacity.

He has charged all departments to source and maintain collaborations with local and international Universities to enhance research. Under him, lecturer will no longer be the center and the emperor of the classroom. His team will reposition the library with an e-library solution that will interface with the physical library for easy access anytime from anywhere in the world.

And there will be: ''zero tolerance to plagiarism, sexual harassment and inducement as a mechanism would be put in place to identify culprits''. He insists that in an atmosphere of discipline, there is progress.

Prof Esimone continued: ''Staff and students' welfare is very important to me. I will ensure that our staff receive all their entitlement and on time too.'' Why is Esimone interested in all these and many more? He wants to catapult the University from 4,047 position to the top 200 Universities in the world in the next 5 years. He won't do this alone without the support of staff and God's grace. 

For Hon. Ifeanyi Collins Obidife, a politician and contractor from Ekwulobia, Anambra state: ''Prof Esimone needs support of management and staff to drive the institution to a greater level. I pray that the Lord God Almighty will keep him and strengthen him throughout all his tenure to lead Unizik to His greater glory''.
A political Scientist from the University, Sir Tony Mary Amali summed the journey so far thus: ''Prof Esimone is doing wonderfully well for now, because he knows the problems of Unizik and the shortcomings of the previous administrations.''
The Director of Information, Public Relations, and Protocol, UNIZIK, Dr Emmanuel Ojukwu had described prof Esimone as very strict and ready to restore the glory of the institution and in a few weeks' time, "everything would be sorted out", with regards to negative publicity the institution received recently.
Needless to say more as we await his first hundred days in office, his first one year and before his third anniversary in office, the journey must have been clearer and by five years, the Prof Esimone's journey would be visioned fully. 

Cornucopia is a weekly column of Odogwu Emeka Odogwu. 
Odogwu is a known Journalist, Editor, Media Consultant and famous
Blogger, as well as Social Media Entrepreneur, Publisher and
Conversationalist @ www.odogwublog.com among others.