Impossible Ndiagu Alike Ikwo and Enyibuchiri Abakaliki, Ebonyi state; Thanks Umahi! By Odogwu Emeka Odogwu
Ebonyi: This week, I had set out to know what has happened to little Uzoamaka Chukwu who was stripped, dehumanized, and humiliated by some people in Uburu, Ohaozara Local Government Area of the State in a broad day light on July 13th, 2016.
38 days after rescue came her way through Ms Rita Nnenna Anoh of Veroz Group, Port Harcourt who adopted her to give her the best life can afford, Governor Dave Umahi ordered her return with a 7 day ultimatum.
Umahi through his then Chief Press Secretary, Emma Anya announced that: "Government is asking that wherever she is, she should come back so that we can take over her training from Secondary School to the University level. We will also be able to rehabilitate her."
I had written then that Chief Dave Umahi truncated her blissful future on an ego trip by his seven days ultimatum to return Uzoamaka back, on August 22nd 2016, and out of courtesy Miss Anoh on September 24th, 2016 returned Uzoamaka claiming high pressure from unmentioned quarters. And I ask, where is little Uzoamaka Chukwu now? What has happened to her? Am I right or wrong? Chief Emmanuel Uzor, his now Chief Press Secretary may tell us! We want to know?
Again, I would have written on our beloved Prince Engr. Arthur Eze's N1B donation for re-election of Umahi and the millions to the traditional Institution in Ebonyi state before the killing of innocent passers bye by Ebonyi communities over their boundary dispute. The killing happened near Alex Ekwueme Federal University Ndufu-Alike Ikwo (AE -FUNAI) road.
Twelve persons were allegedly killed during the communal clash between two sister clans Ndiagu Alike Ikwo in Ikwo local government areas and Enyibuchiri Abakaliki, in Abakaliki local government area, both in Ebonyi state.
Two tertiary institutions' communities, students and staff alike were thrown into panic mood, that of Alex Ekwueme University, Udufu-Alike and Ebonyi State College of Education, Ikwo. It was really shameful that such happened.
Ebonyi State Commissioner of Police, Mr. Awosola Awotunde through the PPRO, DSP Loveth Odah confirmed the killing of eight persons including a three months baby in a renewed boundary dispute between two communities in Ebonyi State.
Six (6) of the victims came from the same family returning from Matriculation ceremony of their son. They were burnt to death in a bus they were travelling in, two others were also killed from bullet wounds they sustained from the attacks. Bizarre! The attack was near the border between the two communities over claims of ownership of some portion of lands in the area suspected to be rich in mineral resources.
Odah said one of the victims was a wife of a police officer serving in Ebonyi state whose husband was on secondment to Borno State to fight the insurgency in the North-East.
"The victims were coming from Abakaliki where they attended matriculation of their son at the Ebonyi State University (EBSU). Five of them were from the same family including a little baby and one is a neighbour who joined them. They were burnt to ashes.
''The driver in sighting the gun-wielding warriors tried to turn the car but in his haste drop the car into a ditch. The gunmen opened fire on the car and some bullets punctured the fuel tank and it caught fire killing the six occupants.
Why ambush innocent people? Why would this happen? These people had nothing to do with the communal crisis in Ebonyi state, so why hurt them to the extent of killing them.
Commissioner for Border Peace and Internal Security, Dr Kenneth Ugbala wondered why a land dispute will spill into markets and roads very far from the where the disputed land is.
The Deputy Governor of the state, Kelechi Igwe visited the area while the State Governor, David Umahi who was on working vacation outside the country, cut short his vacation and returned to attend to the crisis.
Umahi summoned an emergency stakeholders meeting from the three council areas where some killings have taken place recently. He expressed sadness over the unfortunate death of innocent citizens following the outbreak of communal clashes in some parts of the state.
These council areas include Enyibichiri in Abakaliki local government area, Echie Alike in Ikwo local government area and Umuogodoakpu and Ukwuagba communities in Ohaukwu local government area.
Umuogodoakpu and Ukwuagba communities have been having a boundary dispute with Agila community in Ado local government area of Benue state and many lives have been lost. After the Enyibichiri and Echie Alike crisis, Ukwuagba and Umuogodoakpu crisis took place with lives lost.
Umahi accused some stakeholders from the communities of fuelling the crisis. His words: "If there is any further aggression against the Agila people that will result to our people being killed, you will present yourself for arrest and prosecution immediately.
READ ALSO: Nuns, Priests and Sex: Who takes the blame? Part 1 by Odogwu Emeka Odogwu
"If the chairman of a community is not able to protect the lives of his people, then he is not worthy to be the chairman. He should resign or I sack him whether it is constitutional or not constitutional is immaterial to me. What is important is the lives of Ebonyi people and the constitution that we swore to uphold, talks about the lives and welfare of the people.
"So, if you were elected you in error and you cannot protect the lives of the people, it means you are not capable".
Umahi stated further: "The Ohaukwu people in Agila are the aggressors and what is happening is that it is the problem of sabotage from the leaders in Ohaukwu local government. I am told there is a security committee the Chairman removed and another security committee he has inaugurated. And so the other people will go and throw stones on Agila side and give them information on how to kill the Ohaukwu people.  We are placing the security of the place on the hands of the leaders and they will sign an undertaking with the Deputy Governor that if there is any further aggression against the Agila people that will result to our people being killed, they will present themselves for arrest and prosecution immediately''. Imagine this! How can people derive joy in creating crisis in their towns?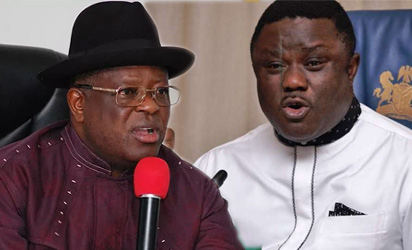 The governor had a closed-door meeting with the Enyibichiri and Alike stakeholders, and later stakeholders elected and appointed from Abakaliki, Ikwo and Ohaukwu at his office at the government house, Abakaliki. That resulted in suspension of two council chairmen, and political appointees over the killings in the state resulting from communal crises.
Umahi's suspension was with immediate effect, as he directed the affected chairmen and political appointees of the affected areas to handover all government properties in their possession to the next in command. He as well suspended three traditional rulers that were accused of having a hand in the sponsorship of the nagging crises. Civil servants alleged to have a hand in the crisis have been asked to forfeit their salaries. A total of 51 political holders both elected and appointed were suspended indefinitely by Umahi pending the time they must have ensured the return of peace in the affected local government areas.
That's why I thumped up for Governor Dave Umahi. Thank you for that single action. If action is taken against perpetrators of evil, it would reduce, if not completely eradicated.  It would help to restore peace. Me thinks!
Another peace maker, or so I think, Senator representing Ebonyi Central Zone, Senator Obinna Ogba has as well called on the two warring communities; Enyibichiri Echialike in Ikwo Local government area and Enyigba in Abakaliki Local government area of the state to stop further killings and destruction of property because they are brothers.
I was pained that no fewer than 200 have been killed and over 20,000 others displaced in different communal crisis between Ebonyi and states it shared common boundaries with.
Just in Igbeagu community in the Izzi Local Government Area of Ebonyi State over 10 persons were feared killed and 7,000 others displaced following a renewed inter-communal crisis between indigenes of the community and their neighbours in Ukele, Cross River State. Over 1,500 houses had been destroyed by Ukele militia groups fighting in Izzi Local Government Area as displaced persons were seen fleeing the zone along Abakaliki-Ogoja highway with their belongings. As I write, Izzi has been deserted.
Deputy Governor of Ebonyi State, Dr Eric Igwe, had directed the Cantonment Commander of Nkwegu Military Barracks, Abakaliki, Lt. Col. Saaid Sadiq, to deploy more troops in the trouble spot to ensure the safety of residents and foreigners travelling along the Abakaliki-Ogoja trans-Sahara highway. Why can't Izzi and Ukele have an everlasting peace? Is it impossible? Why would people be slaughtered on the altar of insecurity and wickedness?
Commander, Nkwagu Military Cantonment, Lt. Col. Sa'aad Sadiq, stated that more troops had been deployed from Cross River and Abakaliki to quell the crisis and enjoined the people of Izzi to support the peace process by attending security meetings.
Recall that two people were killed in Amata Igboeze community in Onicha Local Government Area of Ebonyi State, during a traditional marriage ceremony between the community and their in-laws from Nenwe community in Aninri Local Government Area of Enugu State over slight provocation.
Though, the Ebonyi State government is blaming the federal government as it has not displayed enough sincerity in ensuring that the problems of border areas in Nigeria not only in Ebonyi State are amicably resolved.
The Commissioner for Border Peace and Internal Security, Dr. Kenneth Ugbala, described the National Boundary Commission (NBC) as a toothless bulldog following its inability to demarcate the disputed land between the people of Igbeagu in Izzi Local Government area of Ebonyi State and Ukele community in Yala Local Government area of Cross River State since the outbreak of the crisis several years ago.
Is the Federal government sincere with regards to boundary disputes? Why won't the National Boundary Commission demarcate these boundaries? Is land more important than life of Ebonyi people?
Is this the Ebonyi state where I can call a home having lived there for about 10 years between 80's and 90's? Unbelievable! Impossible! Ndiagu Alike Ikwo and Enyibuchiri Abakaliki, Ebonyi state; stop denting the good heights Ebonyi has recorded since democracy returned. Thanks Umahi! But these killings must stop!
Cornucopia is a weekly column of Odogwu Emeka Odogwu. Odogwu is a known Journalist, Editor, Media Consultant and famous Blogger, as well as Social Media Entrepreneur, publisher and Conversationalist @ www.odogwublog.com among others.
Phone Number: 08060750240
E-mail : odogwuchampionawka@yahoo.co.uk