'I only touched her private part' -Motorcyclist arrested for defiling minor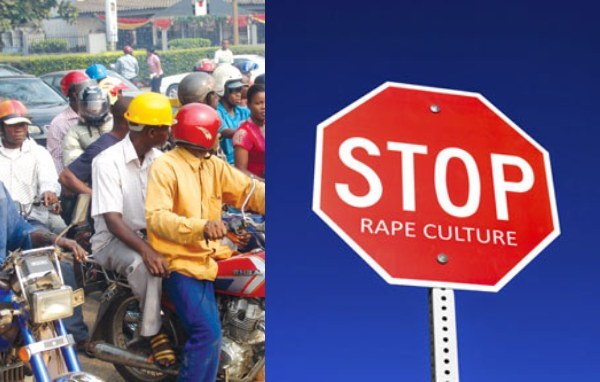 A motorcyclist who was arrested for defiling 7-year-old cousin, in a new confession disclosed that he only touched her private part but never penetrated.

Itoro Udoh who was arrested by officers of the Lagos state Police Command, lived in an apartment comprising of a living room and a bedroom in the Yaba area of the state with his brother, the girl, her stepmother and stepbrothers. It was alleged that the 25-year-old who returned home drunk after the day's job, undressed the girl and had sex with her.

Punch reported that the victim's stepmother was woken up after she screamed, and when Udoh was apprehended he was half-naked while the victim was naked. The incident was reported to the police at Sabo Police Station, and the lady said;

"We live in an apartment with a bedroom and a parlor. The parlor is very big so we partitioned it with a curtain. The children slept on one side while Itoro (Udoh) slept on the other side. Itoro came back from work that night. Around 1am, I heard my stepdaughter screaming. I stood up and rushed to check on her. I met her on the bed naked. I checked where my husband's brother was and saw him half-naked.
Initially, when I asked the girl what happened, she was afraid to talk. I asked her who removed her clothes and she said it was Uncle Itoro. She told me Uncle Itoro put his manhood inside her 'bum bum' (private parts). My husband was on duty that night.

"In the morning, she complained that she could feel pain in her 'bum bum'. When I checked her private parts, there were bloodstains there. I called my husband on the phone and informed him about it. Then I reported the matter to the police. The girl is seven years old."

The motorcyclist, who was arrested for defiling his 7-year-old cousin, however claimed that he touched her private part but never penetrated. He further blamed his action on drunkenness.

"I came to Lagos in November 2018 and started living with my elder brother. I stayed with his wife and three children. I am an okada rider (commercial motorcyclist) and I operate around Ojuelegba. It was my brother who bought the motorcycle for me.

"I got home around 11pm. I was already drunk. I shared a room with my brother's children. When I entered, I removed the girl's pants and put my finger in her private parts. The girl shouted and my brother's wife rushed in. I did not penetrate her, I only used my finger. My brother's wife asked me what happened but I did not answer her. I was arrested by the police the following day" he said.

The suspect was arraigned before Mrs. O. Sule-Amzat of Ogba Magistrates' Court on one count of defilement. The magistrate, who did not take the plea of the defendant, ordered that he should be remanded in Kirikiri prison pending the legal advice from the Directorate of Public Prosecutions. The case was then adjourned till April 8, 2019.