El-Rufai's Son Comment Over Mailafia On DSS Third Invitation Proves One Thing.
By Rowlandgate.
The son to the Kaduna State Governor, Bashir El-Rufai in recent days has been making lots of provocative utterances. Since the former CBN Governor made a revelation that a northern governor is behind or is the one sponsoring the Boko Haram and bandits, he has on several occasions criticized him for saying that.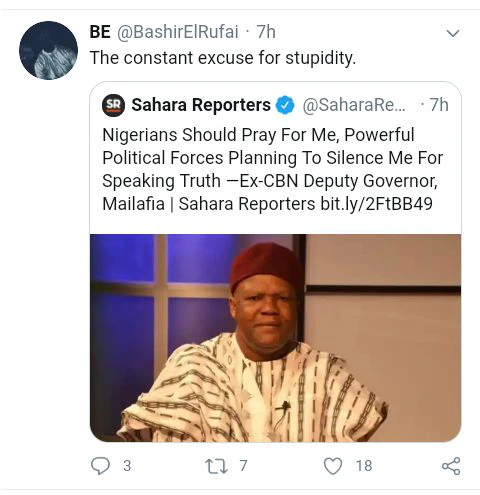 In a recent tweet he made after the Mailafia was invited by the DSS for the third time, Bashir El-Rufai stated it clearly that the former CBN Deputy Governor is always giving "excuse for stupidity". He made the statement based on what Mailafia said. According to Mailafia who said that Nigerians should pray for him because powerful political forces want to silence him for saying the truth
It should be noted that the former CBN Deputy Governor sometimes last year revealed that a northern governor is the commander of the Boko Haram which has made the DSS to have invited him for questioning, and the report has it today that he was invited again for the third time on the same issue.
This young man needs to be cautioned so that he will learn not to disrespect elders because his father been a governor today does not mean that he will be governor forever.
About Post Author