Cornucopia Governor Umahi and Uzoamaka's agony: all hope is lost? By Odogwu Emeka Odogwu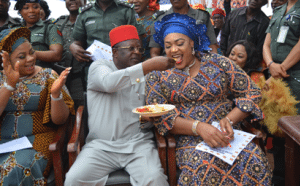 Uzoamaka Chukwu's story would have been that of grass to grace and rags to riches but Governor of Ebonyi state, Chief Dave Umahi just put a clog on the progress sheet.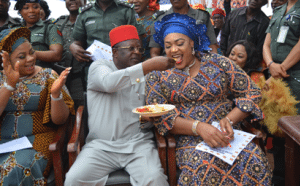 July 13th, 2016 was remarkably and immemorial for Uzoamaka. She was stripped and accused by her own people. She ran to them for protection but they ended up endangering her, even lying against her spirit.
38 days after she was stripped, dehumanized, and humiliated by some people in Uburu, Ohaozara Local Government Area of the State in a broad day light, Umahi ordered her return even when rescue had come her way through Ms Rita Nnenna Anoh of Veroz Group who adopted her.
Ebonyi state government assured to take full responsibility of her rehabilitation and training, even while so many others like Uzoamaka has nobody coming to their rescue. The question is why bringing out somebody God has brought succor her way to take care of, while so many others have not been taken care of? 
But, the member Representing Ohaozara, Onicha and Ivo federal constituency in the House of Representatives, Linus Okorie called for the sack of the Coordinator of Ohaozara West Development Centre over his alleged role in the attack of Uzoamaka Chukwu, but did that happen? No!
Rather, the Coordinator was seen at Governor David Umahi's country home ,Uburu, that weekend, when the governor hosted stakeholders from the Ebonyi South zone of the state.
He was also sighted at the country home of Uzoamaka when the governor visited the family over the incident.
Governor Umahi, in a statement by his Chief Press Secretary, Emma Anya stated: "Government is asking that wherever she is, she should come back so that we can take over her training from secondary school to university level. We will also be able to rehabilitate her."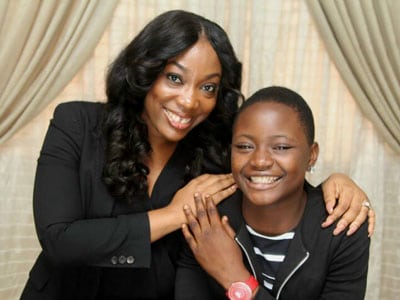 Umahi said what government was doing was in no way going to stop the case in court, stressing that the case in court will continue to run its course.
The man Uzoamaka's family disowned, Elder Francis Odabe, had told Umahi thus: "We thank you for the commitment of the government towards Uzoamaka's well being. Nobody knows where she is but we promise to do all in our powers to bring her out".
That statement from Elder Francis Odabe created the confusion and panic that nailed Uzoamaka.
For showcasing her innocent nipples and cunt all over the World on false allegations, Uzoamaka was scandalized, brutalized, humiliated, abused, flogged , stripped and scorned yet Her God was with her, she got the better side of the wicked acts. God sent Ms Rita Nnenna Anoh, GMD VEROZ GROUP to be her benefactor and in days all the humiliation turned into laughter and smiles to shame her traducers.
Alas! The truth later emerged that her tormentors lied against her and rather than assist her get salvaged, Ebonyi state Governor , Chief Dave Umahi truncated her blissful future on an ego trip by his seven days ultimatum to return Uzoamaka back, on August 22nd 2016, and out of courtesy Miss Anoh on September 24th, 2016 returned Uzoamaka claiming high pressure from unmentioned quarters. Nut the quarter is Umahi's 7 day ultimatum.
Umahi shortly after was reportedly dining and wining with the Coordinator of Ohaozara Development Centre Mr Ogbonnaya Ene Odi who was arrested and released by Ebonyi State Police command for his alleged role in the dehumanizing treatment meted out to an innocent teenager Uzoamaka.
The little girl just in JSS2 was allegedly stripped naked dragged around on the ground and flogged under the orders of the Coordinator even with the aid of two policemen.
At 15, innocent, naïve and God fearing but her innocence was shattered by misogynists and pedophiles and nobody is talking. But God raised a woman without any premonition to remove the shame from Uzoamaka's face Umahi struck a deadly blow.
My pain is that the 15-year-old girl assaulted by the Coordinator of Ohaozara Development Centre in Ebonyi state and his co travelers, Miss Uzoamaka Chukwu is no longer with Miss Rita Anoh, a Port-Harcourt-based businesswoman, an indigene of Ebonyi State.
Before Uzoamaka lost this home made in heaven, she has quickly recovered from the entire emotional and psychological trauma she went through. There was enough love and care for her at Anoh's home.
What has Umahi or his aides achieved by that seven-day ultimatum for return of Uzoamaka?
Umahi demanded that the girl should be returned to the state from wherever she might be, as she remained the property of the state.
Hear him: "We are giving seven days for her to come back. We don't know where she is, but we ask that she must return, because she is the property of the state," the governor was reported to have said.
Uzoamaka's uncle, Mr Victor Unogbo, dismissed the  the governor's claim, and now opened a can of worms. He now revealed that the girl was from Edo State not Ebonyi. He insisted that Uzomaka's late father was his immediate elder brother.
His words: "What happened is that Uzoamaka's late mother was from Uburu in Ohaozara Local Government Area of Ebonyi State. She bore three children for my late elder brother and Uzoamaka happens to be one of the three children. But, at the death of my brother, their mother took them to her village in Ebonyi State and ever since then, they have lived there. Her name is actually Uzoamaka Unogbo and not Uzoamaka Chukwu as was earlier reported."
What an unending woes of a girl God threw up Miss Anoh to raise as a flag bearer for other orphans and traumatized young girls either in Ebonyi or elsewhere.
Miss Anoh handed her over to her family in Edo State citing undue pressures from certain quarters as reason for her action.
Hear Miss Anoh: "The unfortunate treatment meted out to the 15-year-old Uzoamaka came to my knowledge through the social media. Out of compassion, I intervened to give her a new lease of life through scholarship and a home; a move that has actually changed her life from the agonizing experience she had.
"However, this kind gesture has been variously misunderstood and given all kinds of colourations. In view of this, I am constrained to hand over the girl back to her family for onward decision. Any further issue or information about her should henceforth be referred to her family.
"I feel a deep pain in my heart doing what I am doing now, but I can't help the situation. I just pray that her people will take good care of her, henceforth. She needs emotional and physical support. I urge her family to please, take good care of her."
''Actually, I would have loved to nurture her and see to her welfare. Within the brief period I have stayed with her, I can confidently say that Uzoamaka is such a nice, obedient and intelligent girl, who just needs somebody to take care of her''.
Why would Uzoamaka be left in the cold Governor Umahi? The family sees Umahi's gesture as torment as Ukamaka, elder to Uzoamaka stated: "Ebonyi state government should be asked to stop tormenting my family. …..So much has been said about the terrible incident and my family has decided to maintain silence all these while partly to protect the little girl and also in deference to the good people of Uburu, our uncles, who have done so much in our lives since the death of our father and mother in 2004 and 2006 respectively. Uzoamaka is the last of three girls by our parents, late Luke Unogbo and Felicia Chukwu."
Ukamaka said further: "Ours was indeed a humble family. Our parents died very early, leaving us as orphans and vulnerable. While a good Samaritan, Mr. Smart Nwachukwu from Olokoro Umuahia took me into his family and catered for me till adulthood, my younger ones, Tessy was taken to Edo State to stay with our paternal uncle while Uzoamaka was moved into the home of our mother's elder sister, Mrs. Tessy Chukwu at Umunaga Uburu, which explains why Uzoamaka took the surname Chukwu. The unfortunate circumstance exposed us to numerous difficulties and challenges that I cannot enumerate here. You can, therefore, appreciate the joy and relief that came to us when providence brought Mrs. Anoh into our family to play the motherly role, which Uzoamaka never had.
"Everything appeared to be working well after my sister was given scholarship up to the university level and a new life by Mrs Anoh. Uzoamaka got admission and was due to start school this September but we were surprised when the Ebonyi State Governor issued an ultimatum for her return during his visit to my aunt's house at their village on August 21. At first, when Miss Anoh called to inform us of her intention to return Uzoamaka, my family objected because we see her as the best person that can mentor and give my sister the needed training she deserves. My family and my sister rejected the state government's scholarship because she already has one and their interest in my sister's ordeal came rather too late. What is the state government's interest in this matter? Are their children not in school? Why is my sister's case being dragged like this? She deserves justice and peace to move on instead of this emotional torment."
Three weeks after the incident, nobody not even aides to Governor Umahi said a word but immediately Miss Anoh took custody of the girl, Umahi and co-travelers woke up. Was Miss Anoh and opposition? Was she eyeing Government House or her relatives and associates strategizing for next election? Umahi and his aides would have thanked Miss Anoh for wiping away the shame on the state and the Girl's reputation rather than opposite.
Ukamaka claimed their maternal family has not been met till date, insisting: "Our mother is from Umuaneketa Uburu and not from Umunaga where the governor visited and issued the ultimatum. Mr. Francis Odabe who was referred to as our uncle is somebody we don't even know and who also does not know us in person. We are not even related in any form to the man. We only have cousins and an aunt from Ebonyi State. Our father is from Agenebode in Etsako East Local Government Area of Edo state," she further informed.
Umahi please hear Mr. Unogbo as he appealed: "We appreciate the governor's benevolence, but we want to appeal that Uzoamaka should be allowed to stay with Mrs Anoh. She has found comfort and peace there.
"We are giving Uzoamaka to Miss Rita Anoh and not the Ebonyi State Government. We want Uzoamaka to stay under the woman's roof because we believe she would take good care of her.
"Uzoamaka is not the property of Ebonyi state as claimed by Gov ernor Umahi, instead she is the property of Edo State. I am standing as her father, because her late father was my immediate elder brother.  We are from the same father and mother. Our mother is from Akwa-Ibom, but our father is from Edo. To be precise, we are from Agenebode, Egori Waterside in Etsako East Local Government Area of Edo State.
"We are pained by the woman's decision. We are saying that whatever informed her decision; she should reconsider her stand and take the girl back. I know she has good intention towards her.
"We, the family here in Edo State are already concluding plans to visit the woman in Port Harcourt to personally plead with her to reconsider her stand and to let the whole world know that we are willingly giving our daughter, Uzoamaka, to her. She should not be afraid of anybody; we are assuring her of our support and cooperation as she takes Uzoamaka back to give her a new life.
Little Uzoamaka had full scholarship to university level from Miss Anoh but what is her fate now?  The memories of the expansive shopping spree, medical assessment, clinical therapy and decent school she was registered before the evil omen would be an albatross to Uzoamaka's progress report if Miss Anoh refuses to change her mind.
Please , Miss Rita Nnenna Anoh, kindly reconsider and take Uzoamaka back as her Mum because the egoists at Ebonyi state Government house, Abakaliki who did not properly brief Umahi has caused for him a dent on his reputation. I believe he is looking for a way out of the mess. It was not his will but believe me, he was coerced into that order or was misrepresented by his aide who made the other.
Cornucopia is a weekly column of Odogwu Emeka Odogwu. Odogwu is a known Journalist, Editor, Media Consultant and famous Blogger, as well as Social Media Entrepreneur, publisher and Conversationalist @ www.odogwublog.com among others.
Phone Number: 08060750240
E-mail : odogwuchampionawka@yahoo.co.uk
First published Saturday, 8 October, 2016 18:15