BUHARI AND AZIKIWE BY UMENZEKWE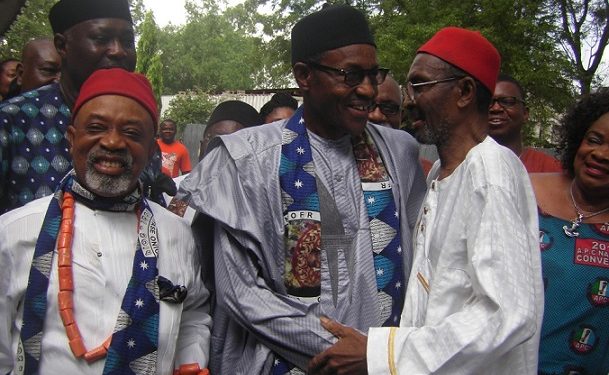 When in September, 2014 the former Attorney General ofthe Federation Chief Chike Offordile (Onowu of Onitsha) was being laid to resting accordance with the Onitsha tradition, His Excellency, President Muhammadu Buhari was one of those respected guests and whom Chief Chike Offordile served as Attorney General of the Federation 1984 to 1985. His Excellency, Mr.President took time off to visit Owelle Chuma Azikiwe in his Inosi Onira residence. I was present including one of Chuma's best friends Chief Joe Ifedobi (Okosisi Akpo). It was there that Mr. President in discussion with Chuma Azikiwe lamented the ugly state he saw Zik's Mausoleum, his last resting place. He felt bad and told Owelle Chuma Azikiwe and I want to quote him, he said "by the grace of Allah I would complete that mausoleum and 2nd Niger Bridge including Onitsha Ports and dredging of River Niger".
On April 7, 2015, Owelle Chuma Azikiwe paid me a courtesy visit in my country home Achina with his brother Chief Sam Modebe apparently in jubilation that Mr. President has won that Presidential election.He was in a very, very jovial mood and joy. While speaking to the people of Achina who gathered in my house to welcome him and revealed that his joy knows no bounds that what the President, General Muhammadu Buhari said in his home by that victory had been fulfilled. All these are on tape. Buhari is one who is very humorous but highly reserved. Without mincing a word he lacks talking from both sides of the mouth. Today that abandoned Mausoleum has been completed. The workaholic Minister of Works Mr. Babatunde Fashola (SAN) who works like Mr.President through his energetic effort had made it completed.
One year after the visit of Mr. President to Owelle Chuma Azikiwe was being laid to rest on 12th September 2015. I held the view and remembrance that Chuma had not died but he lives. In his sermon, Owelle Chuma's best of friends, His Grace Most Reverend M.S.C. Anikwenwa former Anglican Archbishop Emeritus of Awka and Niger Diocese lamented the state of Inosi Onira, Zik's compound and prayed fervently that Owelle Chuma's death will bring a new dawn in Zik's compound especially that whoever leads Federal Government must see to it that Owelle's father RT Hon. Dr. Nnamdi Azikiwe GCFR did not serve Nigeria in vain. And himself Archbishop Anikwenwa reiterated that Chuma told him about Mr. President's intention if he assumes office. Today the promise of Mr. President has come to pass.
The 2nd Niger Bridge so abandoned like Zik's mausoleum is in progress of completion as dateline for the completion has been announced by the Buhari administration and mobilization for the job paid. Both the Onitsha Ports and Dredging of River Niger is in the process.
I want to recall the intervention of Anambra State Governor Chief Willie Maduaburochukwu Obiano (Akpokuedike Global). His wonderful and remarkable intervention in seeing that Inosi Onira compound of Owelle Nnamdi Azikiwe that contained his remains and mausoleum was kept in good shape and order. His Excellency the Governor mobilized his government through commissioners for works, housing to relocate in Zik's Compound to renovate infrastructures that were almost in bad shape. Not only he made the burial of Owelle Chuma Azikiwe successful by providing all the necessities, today Rt Hon.Dr. Nnamdi Azikiwe's mausoleum is now completed awaiting Mr. President's opening. It has been a very infrastructural successful galore. The gigantic Federal Secretariat in Anambra State is almost completed. Today, I thank Mr.President for indelible marks in Anambra and South East in general. I want to look back and strike my chest that Mr. President has fulfilled all that past leaders and governments had failed to accomplish.
To God be the Glory.
Umenzekwe writes via
Modestusokechukwu661@yahoo.com