Stop The Blackmail Of Peter Obi's VP Candidature – Groups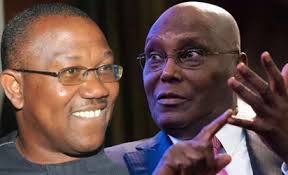 Four professional organizations, Transform Nigeria Citizens Initiative, Concerned Nigerians Forum, South-East South-South Network and Nigerians in Diaspora for Real Change on Thursday kicked against continuous blackmail of Peter Obi's candidature warning that it will be disastrous for the Peoples Democratic Party, PDP, if Obi is replaced as running mate to Atiku Abubakar.
The groups in a statement jointly issued today lamented that it is disheartening that some people have embarked on a campaign of calumny against Peter Obi despite his track record.
They added that Peter Obi has performed credibly well both in private and public sector.
The statement reads: "The attention of the undersigned professional groups in Nigeria and the Diaspora has been drawn to series of sponsored reports aimed at frustrating the joint Atiku Abubakar/Peter Obi ticket by various interest groups, particularly the recent threat by some Northern groups to work against the party, if the PDP sticks with the former governor of Anambra state as the party vice presidential candidate.
"It is disheartening that some people will be sponsoring media reports against the candidature of Peter Obi despite his track record as governor of Anambra state.
"It is on record that Obi is one of the few former governors that has never been invited by the Economic and Financial Crimes Commission (EFCC) for any corruption case after the expiration of his tenure in office.
"We categorically state that we will not condone any pull-him-down strategy by some selfish individuals to de-market Peter Obi who has a track record both as a Public official and in the Private sector.
"We particularly note with dismay the hesitation by Deputy Senate President, Ike Ekweremadu to endorse Obi's candidature.
"Although he has debunked media report that he is defecting from Peoples Democratic Party (PDP) to the ruling party, APC, it is necessary to put the record straight regarding media propaganda that Ekweremadu was used and dumped in Atiku's path to being the PDP candidate.
"As Nigerians are aware, for the past eleven years Ekweremadu has been the number one man in the South East. He has been Deputy Senate President from 2007 till date and no Igbo politician has raised an eyebrow about his position despite the South East having many qualified and competent Senators to fill the position. They all have worked harmoniously with him.
"We then ask why the candidature of Obi will still be raising some dust weeks after his nomination.
"We hereby warn those sponsoring the campaign of calumny against Obi and South East to cease and desist.
"Their selfish agenda will not divide the South-East and South-South that have risen in unison in support of Atiku's wise choice.
"We further warn that any attempt to drop Peter Obi as running mate to Atiku Abubakar will have disastrous consequences to his campaign for the Presidency."