Pharmaceutical Society of Nigeria honours Gov Obiano, Unizik VC, Prof Esimone
Pharmaceutical Society of Nigeria, Anambra State's 2019 annual Banquet has ended in Awka with a charge on Pharmacists to rededicate themselves to the service of humanity at all times. Speakers upon speakers at the occasion commended the Vice Chancellor of Nnamdi Azikiwe University, Awka , Prof Charles Esimone for introducing students friendly policies at the institution since he assumed duties.
The banquet at Best Western Meloch Hotels Awka Friday December 13th, 2019 had the Governor of Anambra state, Chief Dr Willie Obiano and the Vice Chancellor of Nnamdi Azikiwe University Awka honoured with Grand Patron award and outstanding Achievement Award respectively.
Addressing the Pharmacists, Governor Willie Obiano who charged the Pharmacists to live above boar always, said his administration was not playing with the completion of the Coordinated Wholesale Centers, (CWC) and the Pharmaceutical Park at Ozubulu, Ekwusigo local government area, Anambra state which would house over 150 companies.
He announced that a drugs revolving fund would be ready by next year.Obiano who was represented by his Commissioner for Health, Dr Vincent Okpala, said that without a sustainable pharmaceutical system, the health care system will collapse and assured that the state is on strategic initiative in re-modernizing the state health sector.
He lauded the good relationship that exists among the PSN and the state government is geared towards achieving a secure health care system.In his remarks, the Vice Chancellor, Nnamdi Azikiwe University, Awka , (Unizik), Prof Charles Esimone , FAS, FPSN, challenged Pharmacists to be godly as according to him , 'if you are a Pharmacist, you must be godly. He believed that Pharmacists would take Nigeria to the next level if given the opportunity.
Prof Esimone reassured that all his administration is doing at Unizik is to actualize its mission of being among 200 best universities in the world, adding that his university is committed to research in all ramifications.He reminded that his character towards work, deduction of friendship and whatever he is in life was attributable to his training as a pharmacist because pharmacy training groomed him.
He even claimed that God is a professional pharmacist hence most pharmacists are mostly godly.Prof Esimone thanked Governor Willie Obiano and Dr Emeka Okeke, Managing Director of Rise Clinics limited and son of Chief GUO Okeke, a Billion transporter, the President of Pharmaceutical Society of Nigeria, Pharm. Mazi Sam Ohuabunwa ,OFR ;the Registrar of Pharmacist's Council of Nigeria, Pharm. N.A.E. Mohammed , the Permanent Secretary, Office of the Secretary to the State Government, Pharmacist Emman Ude-Akpeh, and Managing Director of Paxs Pharmacy limited, Pharm.
Uche Apakama Pharm, Ifeanyi Okoye and wife Dr Amaka Okoye of Juhel Pharmacy limited and Chairman Dinner Planning Committee and Public Relations officer of PSN Anambra, Pharmacist Ifeanyi Okeke as well as the Anambra state chairman of Pharmaceutical Society of Nigeria, Pharm.
Patrick Obi , the State Attorney General and Commissioner for Justice, Barrister Uju Nworgu, and husband Prof Ken Nworgu among others for gracing and making the occasion grand.In a remarks, a fertility expert and the President of Life International Hospital, Awka, Prof Joseph Ikechebelu reminded that the partnership between Pharmacists and medical doctors has culminated in saving more lives for humanity , encouraging everyone to be the best in his or her chosen profession.
Prof Ikechebelu , a Professor of Obstetrics & Gynaecology and Gynae Endoscopy Surgeon flanked by his wife, Dr Ngozi Joseph Ikechebelu (Ebubedia)informed that at Life Hospital, they have reduced medical tourism and brain drain, hence Life hospital has trained over 200 doctors in Minimal access surgery and In vitro fertilisation (IVF).Prof Ikechebelu who is the Director Academic Planning Nnamdi Azikiwe University, Awka said a foreign medical team was provided a place in Life Hospital for knee replacement of 38 patients at no cost.
He noted that Life hospital is all about using technology to restore relationships through assisted reproduction.President ,Pharmaceutical Society of Nigeria, Pharm. Mazi Sam Ohuabunwa, insisted that Pharmacists should be pro human and ensure at all material times that patients get the best medicines, even as he charged government agencies responsible for regulations to ensure that only registered Pharmacists practice in the state.
He expressed gratitude to Governor Obiano for the partnership with Pharmacists in the state, even as he challenged Pharmacists to do more for the state. He reminded them that Pharmacists stand as Buffers between Medical doctors and Medicine and as a safeguard between government and medicine. He further encouraged the Unizik VC, Prof Esimone to hasten efforts more on research on drugs and other medical consumables in his institution, a challenge Prof Esimone admitted was already on in Unizik.
Pharmacist Sam Ohuabunwa acknowledged the harmonious relationship between government and nongovernmental organizations and stated that Pharmacists speak the language of all in the health care sector that will help to boost the economic status of any nation.
The Registrar, Pharmacist's Council of Nigeria, Pharm. N.A.E Mohammed reminded Pharmacists of the new trend in pharmaceutical practice with emphasis on patients , urging Pharmacists to have a new mind set for the practice in accordance with the new pharmaceutical law of practice with focus on patients.Pharmacist Mohammed said the profession is unique and made up of product components and practice components, urging members to focus on the practice components in order not to be affected during the sanitizing process by the Association to phase out the issue of fake drugs around the nation.
Managing Director of Paxs Pharmacy limited, Pharm. Uche Apakama informed that the annual Banquet affords Pharmacists of the opportunity to interact with each other and share perspectives on the role that the pharmaceutical sector play in national development, when carefully harnessed.Pharmacist Apakama said Pharmacists must strive to display high sense of professionalism, abide by the ethics of the profession and ensure that end users of drugs are adequately taken care.
In their various remarks, the state Chairman of PSN Pharmacist Patrick Obi and the 2019 Planning Committee Chairman, Pharmacist Ifeanyi Okeke explained that the banquet provided opportunity to honour Governor Willie Obiano for his outstanding support and indelible milestones in the association that will improve the lives of the state citizenry and Prof Esimone for the feats he recorded and still recording at Unizik.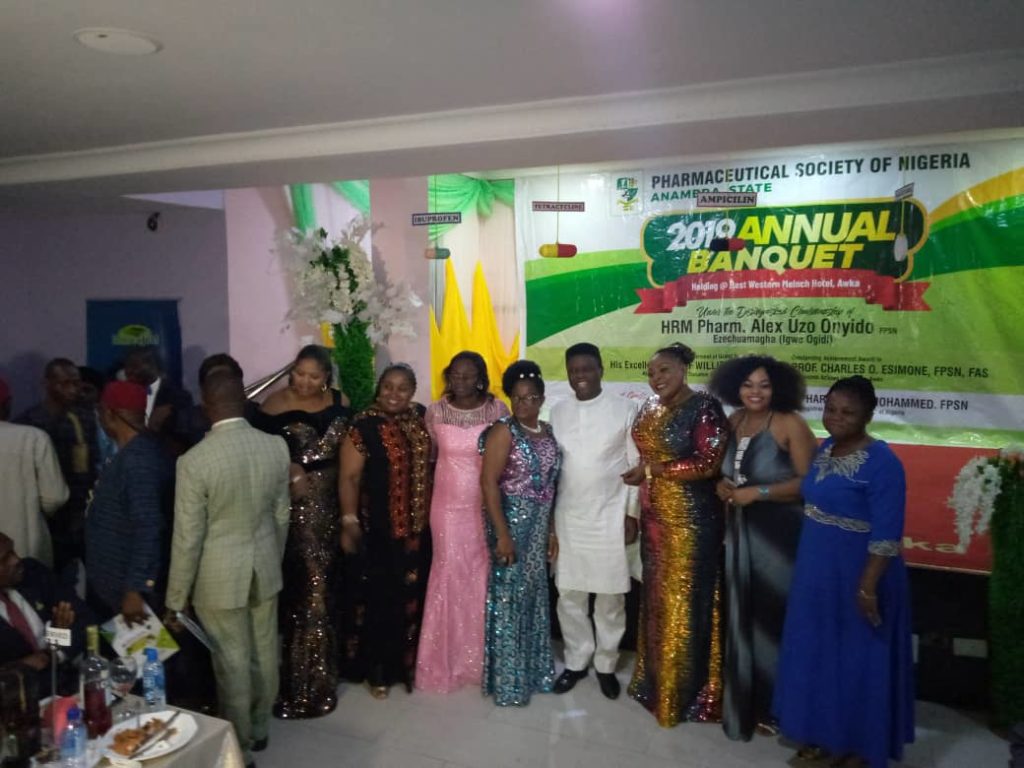 They thanked friends and members of the PSN who threw in their weight to ensure the Dinner night was a huge success. They reminded that Obiano's government donated a bus to the council, a large expanse of land for the Pharmaceutical council's Hub in Anambra and appointed so many Pharmacists into his government.
The Chairman on the Occasion and Traditional Ruler of Ogidi, Igwe Alex Onyido, a Pharmacist said that this year's edition was outstanding as it involved interactions of all members of the association in achieving the common goal of the group.
The Pharmaceutical Society of Nigeria founded in 1927 and registered under Section 21 of the 1922 Companies Act, is an umbrella body of all the registered pharmacists in Nigeria with a vision to be recognised as a society whose members are accessible health care professionals responsible for the provision and rational use of safe, effective and affordable medicines, pharmaceutical care and the promotion of public health and quality of life.
Prominent personalities attended the even including some Members of the state House Of Assembly led by the Speaker Mr. Uchenna Okafor represented by Hon Uzoma Eni, Commissioner for Information and Public Enlightenment, Mr. C-Don Adinuba, Managing Director, Anambra Signage Agency, Sir Jude Emecheta, President ONICCIMA and MD Rexton Industries ltd Pharm Sir Chris Ukachukwu, Dr Simeon Onyemaechi, Executive Secretary Anambra State Health Insurance Agency (ASHIA) , Hon Barr.
Pauly Onyeka , former House Member and House of Assembly Liaison to Obiano,  Hon Obinna and Mrs Esther Emeneka, Dr Basil Nwankwo Chief Medical Director of COOUTH Awka represented by Dr Emmanuel Azike, Mrs Ngozi Ossy Agbata , Director Protocol to Governor Obiano  and among others for making the event possible.
Highlight of the Banquet night was blessing for long life upon all in attendance by the active oldest Pharmacist in Anambra state if not in Nigeria now, and Chairman/CEO Rex Chemists, Chief Pharmacist  A.O. Ezegbo (Ike Ogidi). He clocks 90 years on 30th March next year, even though he would be celebrating it by May 30th next year in Ogidi, he disclosed he has never been admitted to the hospital in the past 90 years. The secret would be revealed during his birthday bash.