Obiano's impeachment plot fails, police take over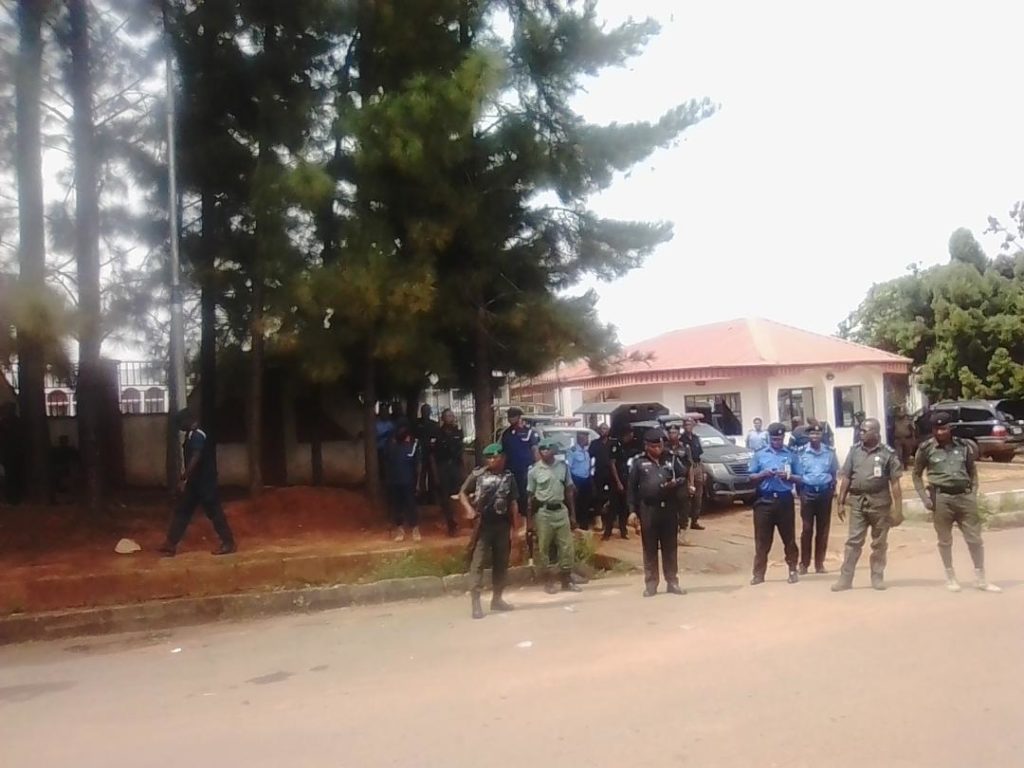 A masterfully-orchestrated plot to commence the process of impeachment of the State governor, Chief Willie Obiano believably hatched by the factional Speaker of the State House of Assembly, Hon. Ikem Uzoezie  was truncated following the continued seal off of the Assembly complex by the police.
Anambra State House of Assembly came under lock and key after the acclaimed impeachment of the erstwhile Speaker, Hon. Mrs Rita Maduagwu by 20 members of the House and her replacement by Hon. Uzoezie, a ranking member representing Aguata II State Constituency following a motion moved by Hon. Benson Nwawulu (Ogbaru 1) and seconded by Hon. Victor Okoye  (Anambra East).
Prior to the conundrum in the House, different interest groups are believed to have fine-tuned strategies to unseat the governor of the State, even as some of them have  capitalized on the controversial primaries of the All Progressives Grand Alliance (APGA) to court for support of most aggrieved aspirants of the party.
A source close to the new leadership in the House revealed that the plot to unseat  governor Obiano was perfected to commence last Tuesday November 20, 2018) but was shifted to take place two days later when the house reconvened following the declaration of last Tuesday as public holiday by the Federal government.
But when the House members led by Uzoezie arrived the Assembly complex on Thursday (November 22, 2018), they discovered to their astonishment that the heavily-armed, fierce-looking men and officers of the State Police Command had sealed off the place and refused law makers from entering while two police patrol vehicles were on stand-by for any eventuality.
Piqued by the frustrating act of the security operatives, the factional Speaker, Hon. Uzoezie while addressing the press on Thursday outside the gate of the Assembly premises described the action as unfortunate, unconstitutional and an affront on democracy in the state.
Accompanied by some of his supporters, the new Speaker, called on the state Commissioner of Police, Umar Garba to withdraw his men and officers from the Assembly complex, saying that the barricade of the Assembly complex has prevented the law makers from doing their legislative functions, and even denied them their constituents the opportunity to be part of government.
He also warned the Clerk of the House, Mr. Pius Udoh for making unauthorized statements on behalf of the law makers saying he has no such authority as he is not an elected member of the House.
  Hon. Uzoezie said the law makers would reconvene again on Tuesday next week (November 26, 2018) and vowed to take legal action against the police and petition the National Assembly in connection with the Speakership tussle.
Osiberoha Osibe