NIMC Finally Launches Their Mobile App For National ID Card Registration And NIN Retrieval
Nigerians have now been given the opportunity to use their mobile phones to get their National ID cards without going to queue up at any NIMC registration centers, according to the National Identity Management Commission (NIMC).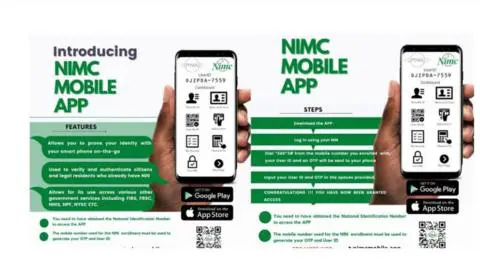 NIMC have launched their mobile app that will enable every Nigerian gain access to acquire an original National Identification with their photo and print to get their paper or plastic NIN.
NIMC Mobile app will enable you to do your self registration that will allow you prove your identity with your phone anywhere you want use it. (On-the-go). You can as well use it to verify and check citizens and legal residents who already had their NIN. It grants you access to government services like FIRS, FRSC, NHIS, NPF, NYSC, and many others.
If you want get your Nigerian National ID card from your phone, scroll down to see simply steps on how to go about it.
Step1:Download the NIMC mobile app
Firstly you will need to download the NIMC mobile app from Google Playstore for Android phones, while App Store fot iPhone users.
Step 2: fill in your NIN number and phone number
After installing the app, you will have to log in and type your National Identity Number (NIN) on your national identity slip or you can dial *326# in your mobile phone to retrieve you NIN number.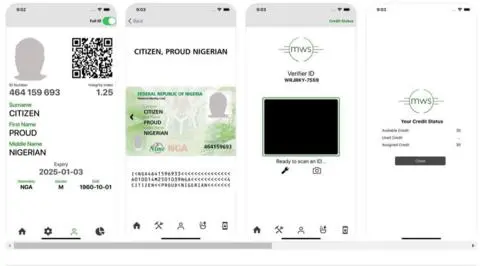 Dial *346*3# with the phone number you used to register your national ID card. You will be sent your user ID and an OTP to your phone.
Step 3: Fill in your User ID
After receiving OTP and User ID message, type the User ID and OTP in the provided space.
After that, Welldone! you now have acess to use the NIMC mobile app!
Step 4: Final stage
You will see all the menu in the NIMC Mobile ID app. What you need to do next is click on 'Show my ID' and your national ID card is ready for you to download and print out on both paper and plastic format. As simply as that!
Please remember, only those who have applied for their national ID card are eligible to get their National Identity Number that they will use to download the ID card.
If you don't have a NIN yet, you will have to do your National ID card Enrolment free of charge, please for more information do visit nimcmobile.app to get more clarification.
Please do like, share and follow me for more updates, and feel free to drop your opinions at the comment section below.
Note: All photos are screenshots from NIMC MOBILE APP/APP STORE.
Thank you.
About Post Author