Improving Reading Culture: How MOGA Readers Challenge Ends in Grand Style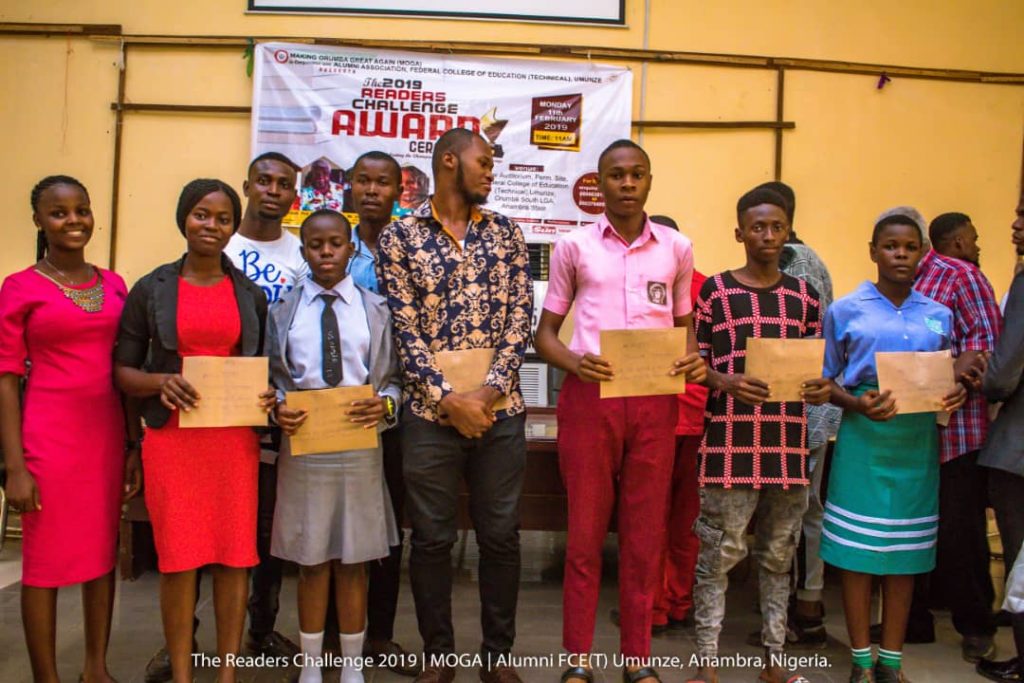 Recent developments have revealed that the reading culture among Nigerians, especially the youths and students have waned significantly.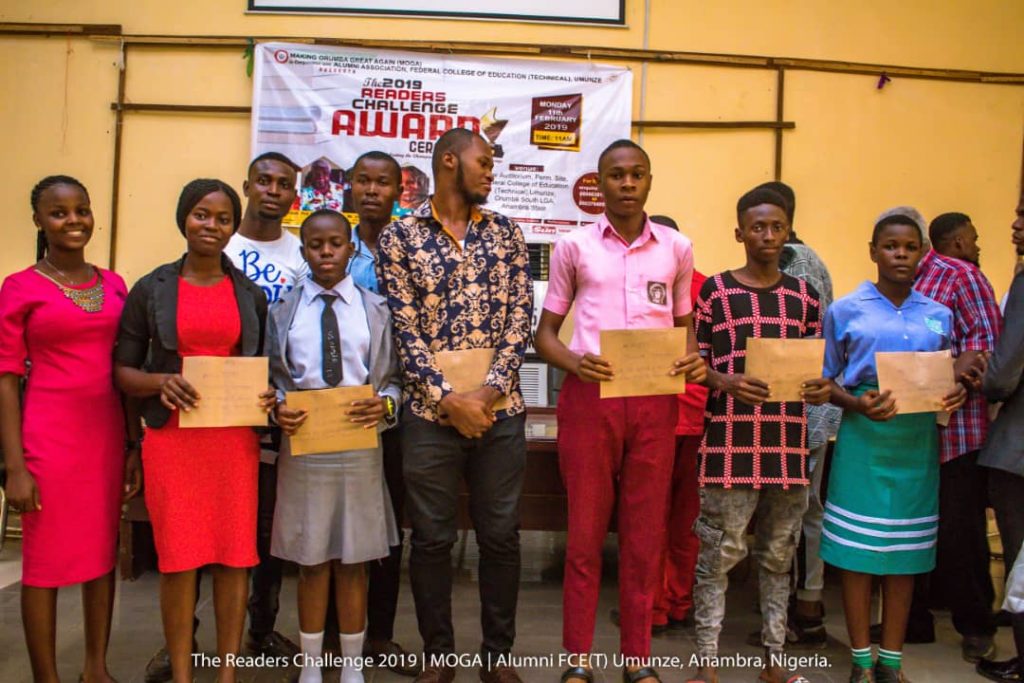 And as part of efforts to stem the tide, an advocacy group known as Making Orumba Great Again (MOGA) in collaboration with Alumni Association of Federal College of Education (Technical), Umunze, Anambra State organized a program tagged 'Readers Challenge' 2019 edition recently.
The event held at Dr Alex Ekwueme auditorium main campus of the Federal College of Education (Technical), Umunze attracted Orumba north and South students from various secondary schools and universities across the country.

In a welcome address presented at the occasion, MOGA President, Mr Victor Okoli and the President Alumni Association, Mrs Ugwu Laeticia Udodiri noted that the 'Readers Challenge' competition is a programme targeted to awaken and promote reading culture among youths and young stars from Orumba north and South respectively.
The address reads,"Reader's Challenge is an offshoot of MOGA and it is targeted at revamping the reading culture of the youths in Orumba South and Orumba North. It is crystal that when people read, they are educated  and Education is the most powerful weapon with which we can change the world starting from Orumba South and Orumba North  Local Government Area, Anambra State". 
"The Reader's Challenge  was divided into two categories, namely; Young Stars Category  (11-17 years) and Youth Category  (18-25 years). This year, in the young stars category, they read Things Fall Apart by Chinua Achebe for six (6) hours with one break period after which they wrote an exam based on the book that they read. In the youth category,  they read Anthill of the Savannah by Chinua Achebe for six (6) hours with one  break period after which they wrote an exam based on the book they read.
The first position for each category will go home with #50,000 and the second position #30,000 and the third position #20,000and cash prizes. Participation for the competition was free and over 170 participants  took the examination".

Presenting his keynote address, Professor Gershon Ejeckam stated that education is the bedrock of any nation. According to him, any nation that neglects education, neglects the future of its youth and consequently the future of the nation. 
He however urged the
youths to cultivate the habit of reading as academicians remain the custodians of knowledge hence advancement in the society. Continuing, he said "the solution lies in the youths reevaluating their values, their mission and their vision and accepting their responsibility to the society and the government recognising the problem and ensuring a sound and robust policy to carter for youth development and advancement of our country".

On the choice of career, he advised the students to choose a career that fits their temperament, skills and personality, so as to get equipped for great opportunities.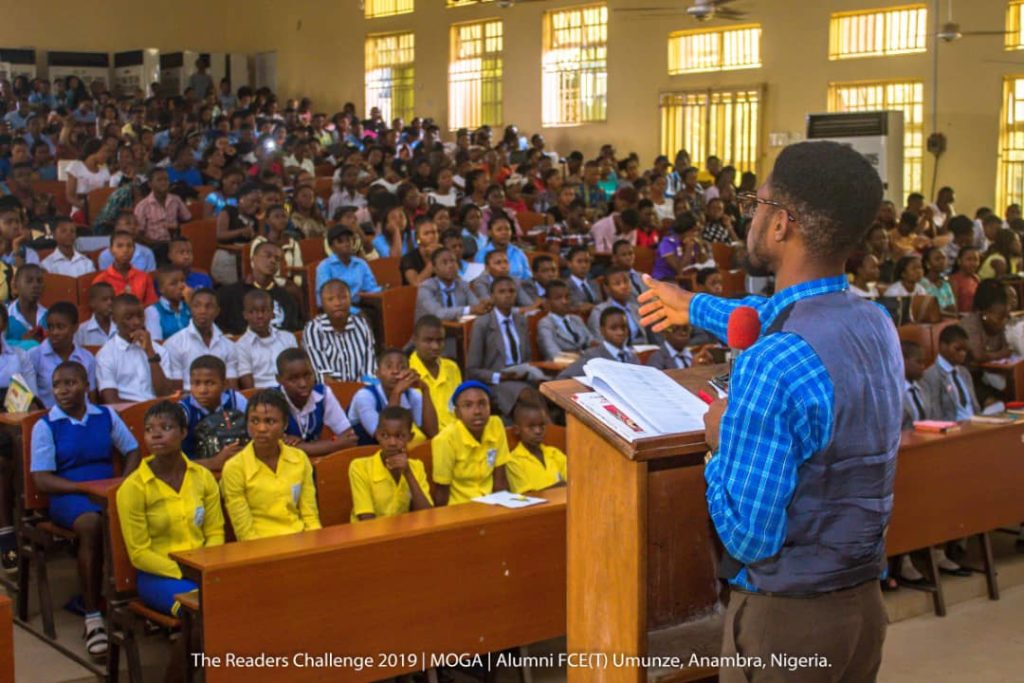 Earlier, in a welcome speech, Dr Tessy Okoli, Provost Federal College of Education (Technical), Umunze welcomed all the participants to the College. She called for concerted efforts to revive the reading culture, enhance writing skills and acquire knowledge that will serve the country well.
She urged the youths to always take advantage of the knowledge, information and education available in books even as she commended the organizers for making out time on impacting on young stars.
The winners of this year's edition for senior category are; 1st position, Marah Bright Ifechukwu, a student of Unizik in affiliation with FCET Umunze, 2nd position, Okoyeocha Ifeanyichukwu, a student of University of Nigeria Nsukka, and 3rd position, Ibekwe Favour Ozioma, student of FCET Umunze.
For Junior category; Agba Makuochukwu Jacinta, student of Community Secondary School, Owerre-Ezukala, 2nd position, Chigozie Akachukwu Precious, student of Ezira Community secondary school and 3rd position, Isaac Jacinta Oluebube, student of Madonna Girls secondary school, Umunze.