Breaking: As Elon Musk Becomes World's Richest Person Worth $185bn.
By Rowlandgate.
Elon Musk electric vehicle company Tesla has surged in value this year, and hit a market value of $700bn (£516bn) for the first time on Wednesday.
The Tesla and SpaceX entrepreneur was pushed into the top slot after Tesla's share price increased on Thursday.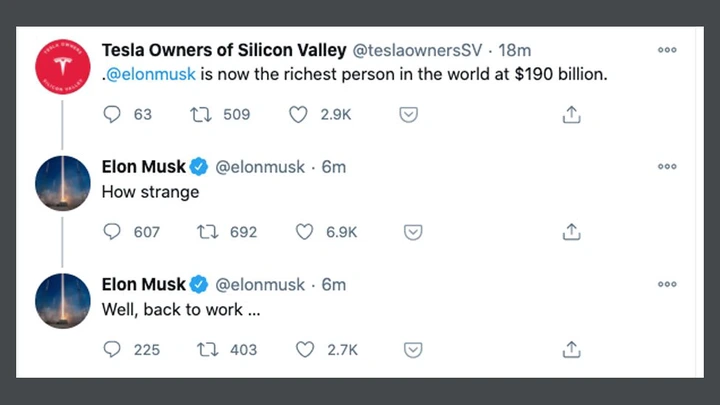 He takes the top spot from Amazon founder Jeff Bezos, who had held it since 2017.
Elon Musk has become the world's richest person, as his net worth crossed $185bn (£136bn).
That makes the car company worth more than Toyota, Volkswagen, Hyundai, GM and Ford combined.
Mr Musk reacted to the news in signature style, replying to a Twitter user sharing the news with the remark "how strange".
An older tweet pinned to the top of his feed offered further insight into his thoughts on personal wealth.
Daniel Ives, an analyst with Wedbush Securities wrote: "A Blue Senate is bullish for the [electric vehicle] sector, with a more green-driven agenda now certainly in the cards for the next few years. Odogwublog.com
Expected electric vehicle tax credits would benefit Tesla, "which continues to have an iron grip on the market today", he added.