Bishop Nwokolo's Secretary, Nnatuanya Buries Father 14th Feb.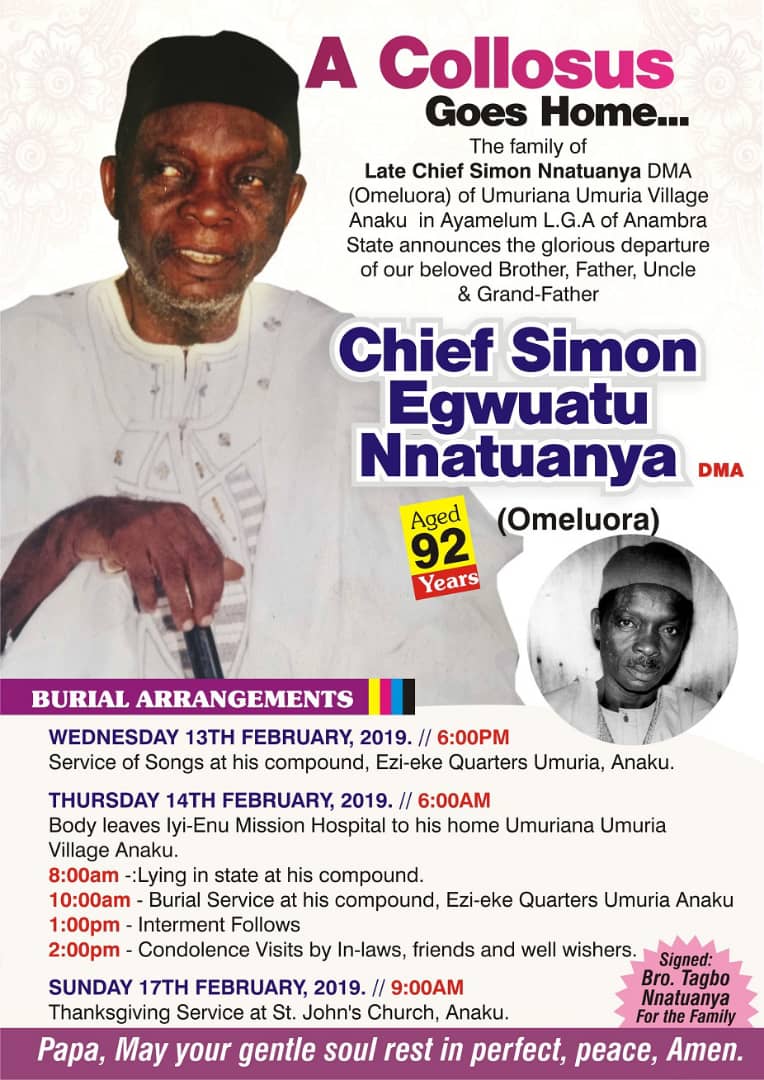 AUTOBIOGRAPHY
Born about May 1926. This date came as a result of Mr. J.J Atike's testimony that Ndinyelu Nnatuanya was born in the year 1929 and I am of the same age grade of Ndinyelu Nnatuanya. The month of May was taken because I was told by my parents that I was born on "uta Akwali" and this "Uta-Akwali" comes up every year in May.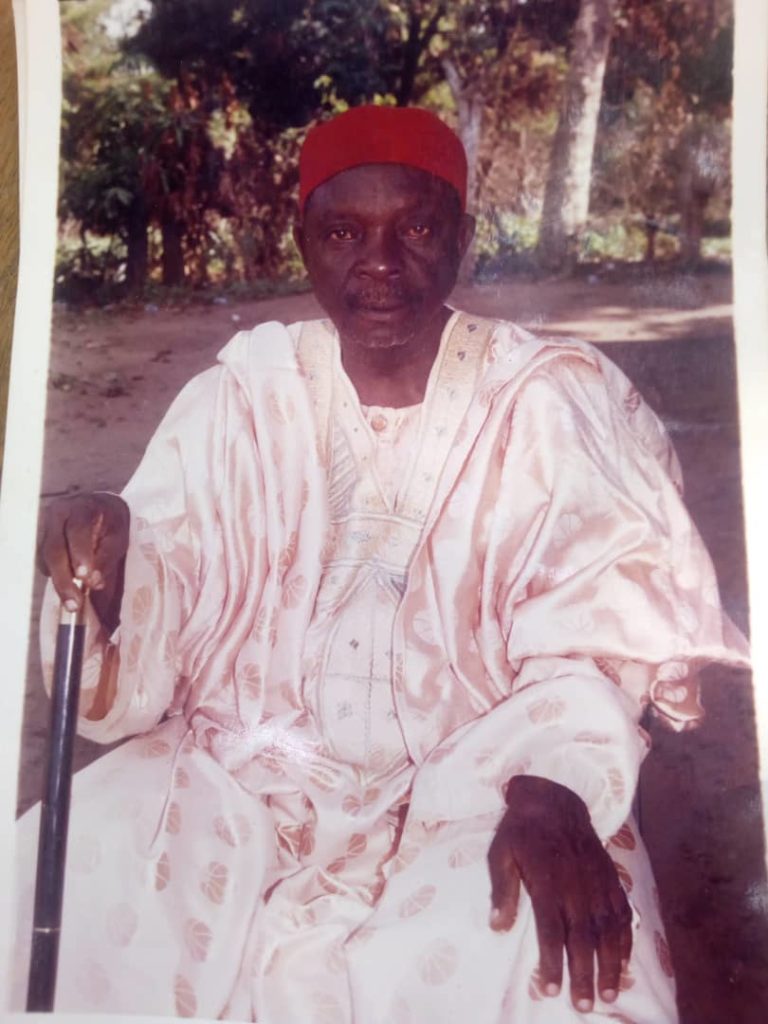 School days:
I started school in the year 1939 at Anaku – St. John's Primary School and later left to Otuocha in 1942 where I had my Standard 3 & 4 at St. Gabriel's school till 1944. I left to Awkuzu in 1945 to take my Standard 6 in 1946. I failed Standard 6 at Awkuzu because of the death of my father that year. Because of this, I had to repeated Standard 6 at New Bethel School, Onitsha in 1947 and passed in flying colours. I started teaching in the year 1948 at Eziogu Oguta.
I had inter Archdeaconry transfer to Onitsha in 1951and was posted to Achina and Akpo combined School. I left the mission to join Uzo-Uwani Development Council in 1952 which I later left in 1959 to join the CMS Bookshop after the war.
Facts that will interest the reader:
Founded Anaku Town Union (A.T.U) in the year 1948 and became the Secretary of the Union.
Achievements of the Union
Stopped nudity in Ayamelum due to the A.T.U's laws in Anaku in 1948.
Stopped ivory wearing which ruined many families in Anaku at the time in 1948.
The Secretary of Civil Defence throughout the war period.
Chairman, Anaku Community Council for the duration of the Community Council period.
Achievement/Failures
Introduced the orderly building of Eke Anaku market. This was copied all over Ayamelum. It will be good to say a few things why I left the Council. The Council made many wrong resolutions based on personal interests of the individual councilors. Councilor Mark Igbekwu had personal interest in terminating the appointment of some young Scouts, while Councillor Peter Ekwunife had much interest in carrying the Health Centre to Ifite-Ogwari instead of citing it at Omor, the central place. I pointed the error in citing the Health centre at Ifite-ogwari and helped the young Scout to write a petition against their termination which was very wrong. The Council was not happy about this especially Councillor Peter Ekwunife who was the leader of the Council and Councillor J.O Ifeanya, the Chairman of the Council. In view of this, the Council had to terminate my appointment without seeking the formal approval of the Minister of the Local Government. which was the correct procedure. I had to take the Council to court and I was recalled back. When I came back, they had to follow the appropriate method in terminating my appointment.
In this scratch, I talked much of my achievements leaving my failures. It is so because my failures are more than my achievements. They are too numerous to mention or name. This is because "I am a strong believer in the rule of law and saying the practical truth". It is unpractical in an African society. This made me to disagree with every society and almost everybody. When I discovered this, it was too late for me to change and I affirmed to continue until life ends. It is not practicable in an African society at this our age to strictly follow the rules of law and strictly speak the truth without minding who is involved in the scene or action. With this at this age you cannot succeed in life, even in the church which is meant to uphold the rule of law and truthfulness. This is my personal view.
After 1983 General elections, I was appointed Supervisory Councilor for works in Uzo-Uwani Local Govt. Area by Ono administration. This was short lived because the Army took over in December that year. I was retired by the military Government in 1984 due to long service. After my retirement, I decided not to involve myself in politics but face farming. In 1985, Umuerechi people sued Umuagu people at Onitsha High Court. Umuriana my family and Umurienu went to settle the matter for the two families. I was not there at the meeting. I was at my rice farm watching birds. Because of the insult received from Umuerechi people at the meeting, my family Umuriana had to take oaths with Umuagu people that they should join them in the case as Aniocha Nkpu na Ndo. Our people Umuriana came to me at night that day to relate this to me. I was not happy that they joined immediately and took oath without thinking. I have to follow my people to join in the case.
I had to head this case with two strong good lads who gave all they had and their best. The lads are Chief Hon Sir Godwin Ejiofor (Nwa ka ibea) and Dennis Ofuonye (Akukalia). When I fell sick in October 1988, the lads had to continue without me until I became well in 1992 to join them again.
I must say something about God's mercies to me in these five years period of sickness. All the doctors both native and English told me openly, that is confessed to me that they were unable to treat my sickness. It is Almighty God that made me well. I could not discuss what I saw or heard during those periods of sickness. God is in fact miraculous and merciful. I entreat everybody to follow God Almighty.
Sell of Itulu Umuria
I refuse taking part in the sell of Itulu Umuria. Itulu is a property God give to Anaku to make them rich. It is full of all good things that will make a nation rich not even town. It is full of mineral deposits. To my greatest surprise those people who even kill themselves and their people to get money put my name in the agreement and asked one of their lad, (name removed) to sign his signature so that people will believe it to be me my name and signature.
The worst thing is that those lads who were behind me in the case of Akamanato and Umuagu until the end (every family had their own Itulu) were able to sign in the agreement what our unborn generations will live to regret because of money. May God have mercy.
In the year 2000, at my 71, I fell seriously sick on 21st August night. I was quickly sent to Onitsha General Hospital. After admitting me for one week, I was discharged to come back with fifty thousand naira for Major operation. I do not know how to write how this happened and how the operation took place. Only God knows. I will talk of the Reverend Pastor that donated over twenty six thousand and the poor trader that donated over twenty thousand or the poor Head Master that donated over ten thousand or the poor lad that donated his blood and many others that donated from five thousand, two thousand, one thousand, seven hundred naira, five hundred naira, four, three, one hundred naira. Do I talk of the doctors and nurses that treated me? Only God's miracle, mercies and underserved kindness that follows me made it possible for the operation to be successful. FROM MY HEART, I DO NOT KNOW HOW TO EXPRESS GOD'S MERCIES ON ME AND MY FAMILY.
What I was:
Introduced Anaku Improvement Union at Ekee Onyibo Nwadiogbu, the father of Umuereovili in December, 1948.
I was the Secretary of the Union as from 1948 to 1964, also the Chairman of the Union as from 1965 to 1970.
The Chairman Anaku Community Council 1970 to 1979.
The Vice-Chairman Ayamelum Improvement Union 1979 to 1996
Supervisory Councillor of Works Uzo-Uwani Local Government Council 1983.
Had Certificate of Merit Award (DMA) by His Lordship, The Most Rev Dr. J.A Onyemelukwe, Archbishop of Province II, Dean of the Church of Nigeria.
Record of service
| | |
| --- | --- |
| Station served | Period of service |
| C.M.S School Eziogu Oguta | 1948 to 1949 |
| C.M.S School Obudu Agwa | 1950 |
| St. John's School Naze Owerri | 1951 |
| Entered Uzo-Uwani D.C Akiyi-Umulokpa | 1952 to 1959 |
| Entered C.M.S Bookshops Awka Makurdi Onitsha | 1960 to 1961 1962 to  1966 1966 to 1970 |
| Entered teaching again C.P.S Omor C.P.S Ojo C.P.S Anaku C.P.S Ibite Olo C.P.S Amogu Umulokpa C.P.S Anaku Non tutorial staff at E.C.S Anaku | 1972 to 1976 1977 to 1978 1979 to 1980 1981 1982 to 1983 1984 1994 to 2007 |
Burial at death:
Whenever I die, I would like the church to bury me according to Christian rites. More so, I would like my wives to mourn for me not more than five months. If it is a thing that is done in one's life time, I should have said 30 days but if they do that when I am not there, they will be molested. Nobody will protect them.
Papa passed on to glory on Wednesday 21st November, 2018 at the early morning hour.