$5M bribery scandal: Police stop NANS protest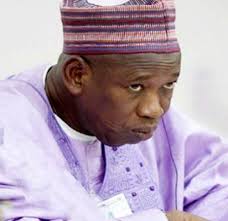 The Kano state police command has barred the Kano Chapter of the National Association of Nigerian Students (NANS) from embarking on a protest to call for the resignation of Governor Abdullahi Umar Ganduje over the video clips that showed him allegedly collecting dollar notes said to be bribes.
In an audio announcement Tuesday, spokesman of the command, SP Magaji Musa Majia has said the police has not approved the protest march, which the group wanted to carryout on 29 October, 2018 from Zoo Road to Government House.
The protest, according to Majia was to ask the governor to step aside to allow for an independent investigation into the video clips, which were first published by Daily Nigerian, an online newspaper.
"We wish to warn the group particularly its leader Comarade Isa Abubakar to desist from embarking on this illegal protest because the police command has not given its approval.
"However, we adivse anyone who has a complaint or suggestion on this matter to approach the committee set up by the state House of Assembly in order to expand investigation," Majia noted
"But whoever ignores this advice and proceeds with the march, we would mobilize our personnel to arrest and prosecute them in the court of law," he stated.