Opposition plots Obiano's removal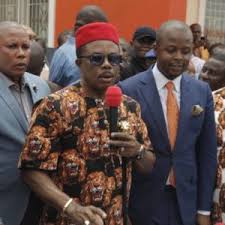 Plots by opposition groups to unseat the governor of Anambra State, Chief Willie Obiano thickened following the alleged flawed removal of the  Speaker of Anambra State House of Assembly, Hon. Rita  Maduagwu from office  by a faction of the House led by the Deputy Speaker, Hon. Harford Oseke representing Awka South II State Constituency.
The governor who few days ago traveled with president Muhammadu Buhari to Paris after he made what well-meaning Nigerians termed non-salutary pledge to support the ruling All Progressives Congress (APC) in the 2019 Presidential elections.
Jolted by a section of the House, the embattled Speaker was believed to have reached out to the State governor, who mandated the Secretary to the Government, Solo Chukwulobelu, his Chief of Staff, Hon. Primus Odili, Commissioner for Information. Hon C.Don Adinuba and Senior Special Assistant to the Governor on Assembly Matters, Hon. Chidozie Ezeugwa among others to move in to forestall the matter and save the situation in the absence of the House.
A team of security operatives including men of the police force were mobilized to the Assembly where they provided cover for the 10-man faction of the House led by the Speaker, Hon Maduagwu to hold session, even as one member moved in while the session was on.
Prior to the conundrum in the House, different interest groups are believed to have fine-tuned strategies to unseat the governor of the State, even as some of them have  capitalized on the controversial primaries of the All Progressives Grand Alliance (APGA) to court for support of most aggrieved aspirants of the party.
The opposition groups' Plan A almost materialized following the impeachment of the Speaker and her replacement by Ikem Uzoezie, representing Aguata House II after a motion moved by Onyebuchi Offor representing Ekwusigo State Constituency and seconded by Kingsley Iruba, representing Nnewi South II State Constituency.
The Speaker was accused of alleged high-handedness, financial impropriety, docility and breach of House procedures.
Following this impeachment and installation of the new Speaker,
The removal of the Speaker was perfected via a voice vote unanimously supported by those present while she was yet to enter the Assembly chamber.
The saving grace for the Speaker came when the Clerk of the House refused to swear in the new Speaker alleging that Section 92(C) of the Constitution was not followed, thus pronouncing the said impeachment as null, void and of no effect.
In his reaction, the SSA to the Governor, Hon., Ezeugwa noted that there was  serious issue the members might not be happy with and sought an opportunity to give expression to it through the impeachment move, adding that efforts would be made to settle the rift and unite the members of the House.
Both factions adjourned to resume this Thursday in what political watchers tag an endless war of attrition.
Osiberoha Osibe