Anambra HOS pledges to maintain disciplined staff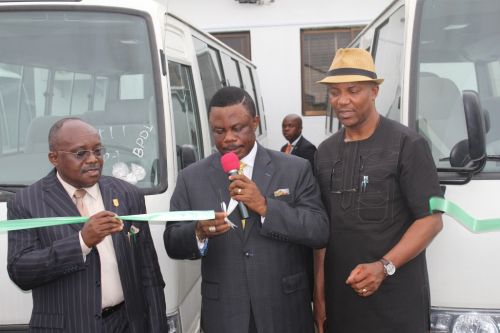 Mr Harry Udu, Head of Service (HOS) in Anambra has said he would continue to work towards maintain a dedicated and discipline workforce to enable the state government achieve its lofty policies.
Udu made the assertion when he received the leadership of Advocacy for Peace and Value Re-Orientation  in Awka ..
He said the efficiency of the civil service determined the success of any government and applauded Gov. Willie Obiano for keeping workers in Anambra highly motivated by paying salaries regularly.
"Anambra is an exemplary state and the civil service has helped to drive the good policies and objectives of government.
"We promise to ensure that the workforce is dedicated and disciplined, just as we thank His Excellency, Gov. Obiano for meeting the government obligation to workers with regular payment of salaries.
"Our state did not experience recession because apart from paying salaries, the governor was and is still spending on capital project including community-based projects which are entering their third phase," he said.
The HoS who was presented with the certificate of 'Integrity Stewardship' by the group for their advocacy for peace and values at a time when people were no longer giving them attention.
He charged them to mobilise Nigerians for a violence free exercise adding that the task of nation building was for everyone and not a few.
"I thank you for the path you have taken, we need peace, we need change in our value system but there is so much noise and threat to security.
"What we are doing shows that all hope is not lost; I dedicate this award to Gov. Willie Obiano and the hardworking staff of this office," he said.
In his speech, Mr Abraham Oyibo, Executive Director of the group said confidential independent assessment on Udu showed he had done well as a public sector administrator.
Oyibo said the HoS was one of the ethically responsible personalities enlisted for the honour and charged him to see the award as motivator for greater stewardship for humanity.
"You have displayed ethical leadership, developmental policy performance, public accessibility, Servicom compliance, commitment to government transformation agenda, zero tolerance for corruption and obedient to rule of law.
"Having been satisfied with report of the assessment, we recognise you as Service Ambassador and confer on you the award of Integrity Stewardship for your sincerity, integrity and administrative discipline," he said.